On April 27, Nigeria woke to the news of a raid by police on two clubs in Abuja where 70 women were arrested on accusation of engaging in prostitution. The police, together with officials from the Abuja Environmental Protection Board (AEPB), separated men from women in these clubs and then violently arrested the women. One woman was arrested was with her two-month-old baby, and the baby was separated from the mother, while others were picked off the streets as they walked.
Sex work in Nigeria, like in most African countries, is criminalized and stigmatized. Sex workers often face cruelty and abuse from the state operatives and society.  Women of all backgrounds were arrested that night. It didn't matter what you were doing in that area. The police and AEPB literarily pulled down walls of clubs, targeted, harassed, flogged and forced women to buy their freedom by paying at 3,000 Naira each ($8.33). Those who didn't have the money for bribery or weren't willing to pay for their freedom were made to pay with their bodies. The pugnacious police used sachet water nylons as condoms during the rape.
The rest who refused to pay and fought this rape were charged in court the next day for prostitution. They were advised, by policemen, to plead guilty and pay 15,000 Naira fine ($41.67) or plead not guilty and go to prison to await a lengthy trial. All of them picked option one. They have since been released.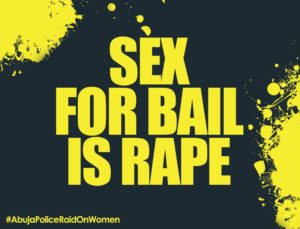 The Assistant Commissioner of Police, Abayomi Shogunle, tweeted: "Those making noise on the clampdown on prostitutes in Abuja. Prostitution is a crime under the law. P is a sin under the 2 main religions of FCT residents. Medicine says P is spreading HIV & STD. P is lifeline of violent criminals. P don't pay tax. Nigeria culture frowns at P."  The fact that Abayomi excuses the violence against women for alleged 'prostitution'  and reduces the outcry for the respect of women and end of discrimination and trumped-up charges as 'noise' shows entrenched attitude towards women in the Nigerian state system. The system that doesn't value women and is not afraid to defend violence against women.
While Nigerian prominent women leaders remained mute, Nigerian women in their thousands didn't back down. They took to the streets to protests in Abuja, Lagos, Ibadan, Accra, and London decrying the violation of women's rights in Nigeria, and online the hashtag #SayHerNameNigeria and #AbujaPoliceRaidOnWomen were trending with stories of victims and messages of support.
One Chioma Agwuegbo shared injury photos of some victims. The remarkable Dorothy Njemanze who like many knows firsthand the cruelty of police violence against women added her voice. In the past, she was one of the victims of police brutality and sexual assault that took the state to the ECOWAS court which denounced Nigeria for failure to protect them from violence.
The protests are still ongoing and some of these scheduled protests are yet to hold and there have been some results so far from this push.
The Nigerian Inspector General of Police, Abubakar Mohammed Adamu, has since promised to bring the offending officers to book.  In addition, Abayomi Shogunle has been posted out of Abuja city to Nkalagu community on account of his apathetic statement.
But these decisions are just a drop in the ocean in the need to address the use of morality to violate women as they see fit is something that is condoned up to higher echelons of society.  As the women were protesting some prominent people like the Director General of the National Council for Arts and Culture openly commended the police for this raid saying that the Nigerian society needs to be purged of immoralities.
Many Nigerians believe sex workers deserve cruelty and are vocal about this. Nigeria remains a deeply conservative and religious society which condemns sex work but it is well known that sex workers do not exist on their own so this is hypocrisy at best.  Accusing women of prostitution is a common way of threatening/insulting women. This moralising and criminalization makes sexually violating women and girls on the pretext that they are sex workers possible and excusable. This shows the real patriarchal societal and state power to control and violate women's bodies remains unhinged in Nigeria.
For those women opposed to sex worker rights, this case clearly showed that those fighting against women's bodily autonomy don't only violate sex workers but target women as a group. A nursing mother was among those arrested  and was separated from her child, women walking on the streets flogged and sexually violated in the name of hunting down sex workers. The hatred of sex workers is hate towards women that seek to control their own bodies and those who dare not be seen to be under any man's guardianship.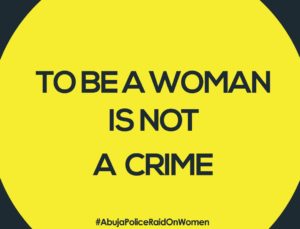 The fact that women were separated from men shows that patriarchal laws punish women and not men engaged in the same deeds. The demand for paid sex continues unabated meanwhile women who earn a living from the trade continue to be harassed and raped. Rule of Law Development Foundation (RoLDF), a human rights advocacy group has threatened to sue the federal government for the violation of Abuja women.
The protests are not just about this one Abuja incident and the arrest of sex workers in Nigeria is not new. This is why Nigeria Sex Workers Association has been vocal against the rights and violations..  The excusing of police brutality and sexual violence against women is rooted in the wider culture that silences victims of sexual abuse and hardly ever punishes rape. They always ask questions like: 'what was she wearing?' 'Why was she there in the first place?'
Women's fight to live in a violent free society remains because of such widely entrenched societal and state sanctioned and accepted levels of impunity when it comes to women's bodies. But Nigerian women and their allies are never sleeping, the turnout in the protest and the current pressure on government attest to that.
We need to see more organizing to create more room for women to live freely — and this includes women at the periphery. If sex workers are still criminalized, then our freedom as women is still collectively threatened.
Photo credits:
It's time to stand for what is right. Its time to stand for our own.

Join the march tomorrow 10th May as we march for #AbujaPoliceRaidonWomen by 9am.

Venue is Eagle Square (Car Park Entrance) pic.twitter.com/W14Gx4wZuh

— The OverLord Queen Herself (@Topsyken) May 9, 2019
A quick announcement that the police detained some women overnight after yet another raid, and is asking for 5000 naira each before they can be released this morning.

This extortion must stop.

This is why I'm marching today.#AbujaPoliceRaidOnWomen pic.twitter.com/EgeCU8RiIC

— Chioma Agwuegbo (@ChiomaChuka) May 10, 2019
Kasimma Chinelo Okani is a feminist Nigerian writer based in Abuja. She has been a writer-in-residence at Thread Residency, Sinthian (Senegal), Ebedi Residency, Iseyin (Nigeria); Wole Soyinka Foundation Residency, Abeokuta (Nigeria). She was an attendee of Study Abroad in Lebanon (Lebanon). She self-published a collection of short stories 'Housemates' in 2016.