Shut down the streets because they aren't safe for Namibian girls, women and gender diverse persons. Shut down the streets because those are the roads from which women are abducted and go missing and from which trans women are assaulted. Shut down workplaces, because women are forced to work with a man who stands accused of shooting his wife 6 times and because women are afraid to show up for work because a male customer might physically attack them over the counter. 
Barricade the river beds because that is where countless bodies of women who have been murdered by men have been found time after time. Close down the schools because teachers who stand accused of rape are given the chance to find employment in another school where they have more access to take advantage of and violate learners. Cease operations at universities because that is where rapists roam free and lecturers use their positions of power to take advantage of students.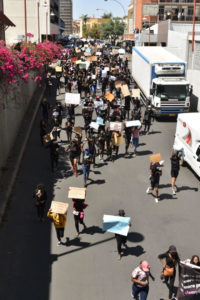 Bring parliament to a halt because that is where women members are silenced and met with verbal threats of violence or dismissed. Shut down the police because victims and survivors of gender-based violence are slut-shamed, victim-blamed or sent home if they attempt to report crimes.  The same police are traumatizing, brutalizing and detaining young women who dare protest against Sexual and Gender-Based Violence (SGBV). Shut it down, shut it all down because nowhere seems to be safe for Namibian girls, women and gender diverse persons.
This is what the Shut It Down nationwide protests currently underway in Namibia are calling for. Namibian youths, mostly, young girls and women, have taken to the streets to march against the rampant rates of sexual and gender-based in the country. Various organisations which advocate for women's rights, human rights and LGBT+ rights have also publicly put out statements in solidarity with the Namibian youth, including Slutshame Movement, Voices for Choices and Rights Coalition, Out-Right Namibia and Holistic Education for Sexual and Reproductive Rights.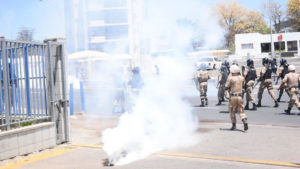 The series of protests were sparked after the remains, believed to be that of a young woman who had gone missing in April 2020 were recently discovered. The first week of October young people organised to make themselves heard in anti-femicide protests. Reports earlier this year said police were receiving at least 200 cases of domestic violence monthly, while more than 1,600 cases of rape were reported during the 18 months ending in June 2020. Protestors have expressed frustration at police incompetence and the need for the high and continuously escalating rates of gender-based violence in Namibia to be declared as a femicide. The protestors are also marching to express their outrage that over a period of 300 days, 66 cases of domestic violence were reported to the Gender-Based Violence Protection Unit in Windhoek.
During the first two days of the #ShutItAllDown protests, young people in Namibia marched to the offices of various ministries including the National Assembly, to hand over the official Shut It All Down petition. Through the petition, the protestors are demanding for the declaration of a State of Emergency, in respect of femicide and gender-based violence; the prioritisation of a sex offenders registry; urgent re-organisation and re-training of the police force as well as the review of all teachers previously charged with sexual assault or rape, amongst other demands. 
My heart goes out to women and girls in Namibia who now have to fight for their lives and their autonomy. As you stand to raise your voices against femicide and gender based violence, I stand in solidarity with you. #ShutItAllDown pic.twitter.com/BD8e0rukJx

— cannonball (@a_nickabugu) October 10, 2020
During day three of the peaceful protests, protestors were met with teargas, police brutality and detainment of about 25 protestors, including journalists, who have since been released. Prime Minister Saara Kuugongelwa-Amadhila announced that the government would put forward an official response on October 13th in response to the petition and the protests. 
Silence from President Hage Geingob, lackluster responses from government officials, tear gas and detainment seems to be no match for the brave and courageous young people standing in solidarity.  The aloofness of the Namibian Police, the sloth-like justice system in the face of sexual violence and femicide as well as criticism against protestors has not stopped them.   They continue to use their voices and take to the streets to take a radical and fierce stance to call for a safer country for Namibian girls, women and gender diverse persons.
Beauty Boois is a writer, cultural worker and performance artist. She studied Clinical Psychology at the University of Namibia and Yoga Psychology at Yoga Vidya Gurukul in India