The COVID-19 pandemic has had profound effects globally, crippling economies and exposing fragile health systems, with women and girls being some of the most vulnerable. In Sierra Leone, cases have risen over the past few months, since the first confirmed case in March this year.
Prevention measures by the government include school closures for the past three months (the schools are slowly resuming for examination classes), and the last time such happened was during the 2014 Ebola crisis when schools closed for eight months. According to a rapid assessment by UNFPA in 2015, 42 per cent of 15–17-year-old girls had a first-time pregnancy during the Ebola outbreak period, with approximately 14,000 girls getting pregnant during the national emergency. Another study conducted by UNDP disclosed that school closures in Sierra Leone increased girls' vulnerability to physical and sexual abuse, and they were often more prone to fall victims to exploitative situations without the safety net that schools often offer. 
Adolescent girls in Sierra Leone face a myriad of challenges on their journey to adulthood from unwanted teenage pregnancy to vulnerability to sexual violence, harassment and abuse, stand in the way.
Girls need tremendous support from their families and communities to overcome these barriers.
When a crisis hits, we know too well from history that these barriers intensify, putting girls' rights at risk. It is in this context that organisations in Sierra Leone are doing their best to ensure that they properly support girls during the COVID-19 pandemic. Through a combination of communication mediums, storytelling, and psychosocial care, some organisations are working to keep adolescent girls safe and engaged during this period. Most of these solutions are homegrown and centred on the voices and needs of girls and their communities. Communications and advocacy tools are important to keep girls informed and empowered during the crisis.
 Purposeful , is a feminist movement-building hub for adolescent girls, producing radio dramas and jingles for girls nationwide, about healthy relationships and self-empowerment. They identify community girl-led or women-led groups and as Josephine Kamara, Purposeful's communications coordinator says, "support the resistance". Through networks, Purposeful supports 17,000 girls, providing physical safe spaces in communities where girls can interact with each other, under the guidance of volunteer mentors. 
With social gathering restrictions in place, these mentors are reaching out to girls through phone calls and radio programs. Purposeful produces a radio program "Karo Kura", which translates into "New Moon" in Kuranko, Mandingo and Kono languages. In this one-hour weekly drama for adolescents, themes range from education and self-empowerment, protection against COVID-19, and promoting healthy relationships between boys and girls. Since gatherings of over 50 people are restricted, the mentors meet girls either at their homes or in smaller groups of a maximum of 10, to discuss the themes of the radio drama.  The drama airs weekly on 39 radio stations, including the national broadcasting radio service, reaching approximately 50, 000 girls nationwide.
In the aftermath of the 2014 Ebola outbreak, EducAid was the only organisation that provided classes to teenage mothers and pregnant girls, when the Ministry of Education imposed a ban on pregnant schoolgirls, a ban that has recently been overturned. During the COVID-19 crisis, they are supporting vulnerable girls to access classes via radio lessons and engage in reading and writing, to make their return to schooling easier.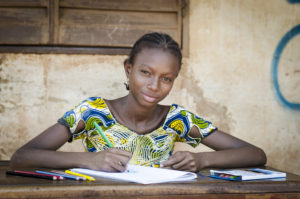 Ninie Unachukwu, EducAid's Operations Manager describes their approach,  "We send reading and writing materials to these students, along with schedules for the radio lessons and memory sticks loaded with recordings of lessons, which students plug into the radios and listen at their own time". These structures provide flexibility, so as not to deter girls who often disproportionately shoulder the burden of care at home.
Educational jingles, played on radio stations also reach remote rural areas in Sierra Leone, enabling girls in smaller towns and villages to have access to messages about teenage pregnancy, proper hygiene, and how to report unwanted sexual advances from predators. There are also fortnightly radio discussions since the first national lockdown in mid-March, where they engage the girls in these communities, answering questions about sexual health, menstrual hygiene, and COVID-19 prevention.
Girlz Empowered  founded by Diaka Koroma has come up with innovative ideas to combat the spread of COVID-19 in their communities. They have worked through school and community clubs to reach girls in Freetown, providing safe spaces for them to come together and discuss issues around reproductive health rights and self-sufficiency. 
 When Sierra Leone reported its first  COVID-19 case, the organisation launched the Wi Yon Bokit (translated as Our Bucket) initiative to tackle sanitation, after realizing that the Veronica buckets, used during Ebola, were often expensive and not affordable to everyone.  
The Wi Yon Bokit offers a cheaper and sustainable option for handwashing stations, by recycling old plastic gallons. Since March, the organisation has made and sold over 4000 Wi Yon Bokit handwashing gallons, in partnership with a local recycling company, and the profits are used to support the running of the organisation. Due to social distancing measures, Girlz Empowered has created WhatsApp groups to stay connected to the girls in the programme and pass on messages of proper COVID-19 prevention, and to give the girls an opportunity to report any cases of sexual harassment or violence they may face.
 Girl Child Network, another local organisation, is working with over 50,000 adolescent girls nationwide to provide menstrual hygiene and social support in small communities nationwide. Their work focuses on children's rights, sexual reproductive health (specifically Menstrual Hygiene), harmful cultural practices (FGM/C and Child Marriage), Gender-Based Violence (GBV), sexual abuse rights, and rehabilitation of victims. They also provide Menstrual Hygiene training and reusable sanitary pads for girls. . 
Anita Koroma, the founder of Girl Child Network says community mentors have been effective during this period.
 "We observed that the girls trust the community mentors with issues affecting them because when the community clubs were being set up, the girls selected these mentors."
Girl Child Network trained these mentors to ensure that they can be efficient in guiding the girls in discussing sexual health and rights, self-confidence and empowerment, and menstrual hygiene. "The mentors also ensure they regularly monitor and check that the girls are faring well and if any of the girls have an issue, the mentors can assist and guide them in seeking solutions to solve the problem and that includes involving us if it is an issue the mentor cannot resolve." Ms Koroma mentions.
At a time of crisis, it is mostly those who are close to communities that are consistent in its uplifting for all needs. It is therefore important to adopt sustainable methods of supporting girls, rooted in community context, creativity, and sustainability as highlighted in the work that these organisations in Sierra Leone are doing.
These organisations are determined that the high cases of teenage pregnancy and school dropout rate seen during the Ebola crisis in 2014, should not be repeated during the COVID-19 crisis in 2020. These locally-led efforts have a strong understanding of the context these girls live in and have made their responses that suit the needs of the girls. It is imperative that we acknowledge and support them.  These models have a deeper and better understanding of the solutions that will enable girls to thrive properly, especially in crisis contexts and should where any international support should be looking. Post- COVID-19 we should redefine support for local organisations towards mechanisms that recognise their expert knowledge as well as lived experiences of communities.
Ngozi Cole is a writer and communications consultant from Sierra Leone. As a freelance writer, she has covered issues on gender, human rights and feminism, which have been featured on platforms such as IPS and Women's Media Center. Ngozi is a FRIDA( The Young Feminist Fund)  2018  Media Fellow and  is now a member of the FRIDA's advisory committee.