Transitions and change are the only constants in life. We grow, we regress, and sometimes we plateau. But how do we measure progress and according to who, especially if one is involved in the non-profit sector, fighting against injustices?
I took a break from formal employment — what they call a sabbatical. It coincided with the COVID-19 pandemic. A year before, I had moved countries and changed areas of work. But I couldn't run away from the feeling of exhaustion. I was tired; I would describe to friends that it had become impossible to feed my soul.
Here I was, on a new job that I was supposed to be excited about. Then on the first day, my now former boss unleashed all sorts of nastiness and unprofessional behaviour. My reaction previously would have been to try and get into this person's head and "correct" the situation or do better. I did not have the energy to take up such a fight this time. Nothing would convince me that I belonged in that space.
My mother travelled to come and support me; friends who I am forever indebted to would call me and check up on me constantly. As former New Zealand Prime Minister Jacinda Arden aptly put it, my tank was empty.
This workplace was horrible, and I slowly discovered that I couldn't sleep and found it very hard to afford a smile.
On my way to the airport to catch a return flight after one of my trips home, I gave a lift to a friend as we were going towards the same side of the city. During the drive, we exchanged general banter. She shared an interesting story about her brother who after 25 years of work was taking a sabbatical. And at that moment it clicked that a sabbatical was what I needed after all; I had been working for ten years. At that moment I expressed to her that I would be open to taking a sabbatical too. "At your age?" she quipped.
I went ahead and took a sabbatical as a result of very many variables. But my sabbatical was self-funded, COVID induced, and I wanted to return home after some months in a new city and a job that wasn't fulfilling. The next few months were nothing short of turmoil filled and refreshing simultaneously. I was in turmoil because I would experience long stints of pure emotional paralysis. On the one hand, I would question myself every waking minute. I doubted my abilities, and on the other hand, it was also refreshing because I got to experience another side of me that I hadn't seen in a long time.
From painting to embroidery, I was exploring my creative side. I wrote a poem and submitted it to the SEED project, and it got published. Then my most redefining hobby became watching tennis. During the COVID lockdown, I started watching tennis as an escape mechanism . I enjoyed it; I immersed myself in the sport and even enrolled in classes for one year.
Tennis was a case of life mimicking art. I learnt that resilience is sometimes a choice and a state of mind. This newly found love deserves much more than a few sentences here, and one day, I will write about it. It became a meditative exercise, and I discovered that there's a tournament somewhere in the world on any given day, so there was no shortage of matches.
This sabbatical also helped me deal with my inner demons, my relationship with work and the fears I harboured. I was afraid to show up in spaces where I belonged and dealt with imposter syndrome.
After a few years of rest and exploring new frontiers, I am working my way back to working. Firstly I am well rested and hope to maintain a practice of rest! Secondly, I am able to think clearer, and I have made peace with my personality and temperament. I do not feel like I should talk more or do less. I bring my gifts, talents and other offerings trusting that they are enough. I am kinder to my community and myself. I hope to be able to show up for social justice courses as a more wholesome person than I did at some point.
I cannot say that the journey is over. No, it's not. In fact, it's far from it; I now only take the journey with a lot more courage, compassion and conviction. The privilege to take time off work is a pure luxury to most people. But it's definitely an investment. Societal expectations make it impossible to take such a decision. If one can plan, taking a pause is worth it! Take the plunge, be it gradually. Rest is beautiful and wellness is paramount.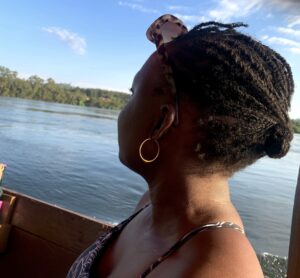 Bridget Musungu is an independent consultant who works in the non-profit and philanthropy space in Africa. She focuses on understanding and supporting civil society groups advocating for civil liberties in conflict and post-conflict nations in the East and Horn of Africa. She has a passion for storytelling and is an art enthusiast.