On May 13, Zimbabwe's main opposition party, The Movement for Democratic Change (MDC Alliance), carried out a flash protest against the government's failure to provide relief food or funds to the people in the Warren Park suburb during the COVID-19 national lockdown. The protest was led by three women: MDC Youth Assembly Vice Chairperson Cecelia Chinembhiri, Secretary for Policy and Harare West legislator, Joanah Mamombe and Youth Deputy Organising Secretary Nestai Marowa. 
Less than 24 hours after the protest, the three were reported to have been arrested. On arrival at the police station, their lawyer found all three women missing.  Later Zimbabwe's Republic Police made a statement that they never made an arrest in the first place.  
Two days after they were reported missing, Chinembhiri, Mamombe and Marowa were found in the town of Bindura,  by the highway, severely bruised, having been tortured and assaulted.  
"They threw us in a big hole and that is where they violated us. They sexually assaulted us and beat us. They made us put each other's urine in cups and drink it. Joana had to eat Netsai's faeces." said Cecelia on a hospital bed after the rescue.   
The alarm had been sounded as soon the women went missing. After they were found in this dire state, national outcry and condemnations followed.  From many international organisations doing work in Zimbabwe to individual activists. In an effort to spread awareness and stand in solidarity with women that have been subjected to political violence Zimbabweans uniformly changed their display pictures and the hashtag #ZANUPFMustGo trended on Twitter.
In response, the ruling party denied the women's experiences saying the abductions were staged and accusations untrue. Multiple statements were made alleging that this has been a part of the opposition party's plan to overthrow the government. Nick Mangwana, Zimbabwe's Information Secretary said: "the three women were part of a group of MDC youths that defied the lockdown laws in the country and took part in an illegal demonstration."
On May 18, a statement from the Home Affairs Minister, Kazembe Kazembe revealed plans to arrest the three women for staging the protest that led to their abduction and assault. Most of the country is outraged and the rest is hardly surprised, only disappointed. For now, Cecelia Chinembhiri, Joanah Mamombe and Nestai Marowa continue to receive medical treatment at a private facility in Harare for the great physical and emotional distress suffered. They are currently being guarded by state police to ensure ease of arrest at their discharge. Family members have expressed concern about further harassment from law enforcement at the hospital.  Henry Chinembiri, father of Cecelia said in his statement "We are concerned because there is, even more, harassment and torture coming from the police deployed at the hospital. I know torture because I have been tortured before. But the torture I'm talking about is more than to wounds they are being treated for.". 
The state is committed to the arrest of the three women, in addition to denying accountability for their abduction and refusing to be transparent with the citizens. 
It is a violent experience to be an African woman in a police state, and for decades now the bodies of Zimbabwean women have become casualties in this political turmoil. It is impossible that an election can happen, a demonstration can be carried out or public political exchanges are made without ending with a woman raped. It is impossible. It has become impossible.  Here is some perspective about Zimbabwe's violence against women.
History of political violence targeting women 
During Zimbabwe's second liberation struggle  1964-79 against white minority rule, young women were kidnapped to cook, clean and forced to have sex with soldiers, referred to as Zvimbido. Women guerillas doubled as sex slaves to commanders such as Josiah Tongogara. The same commanders that went on to lead the people without ever having to account for the acts they committed. There was so little recognition for women's bodies, that even now activists suffer the same fate as the women that came before us.
And those who never told their stories. We have learned that the patriarchy that is in our leaders defines the way they lead. That and corruption. Violence against prominent political leaders is carried out with no hesitation and it brings into perspective the experiences of women whose voices cannot be heard because they are not close enough to the public spaces. In political spaces women are undermined and treated like extras who ought to be grateful to be there.
There is public footage showing multiple instances in which women parliamentarians were kneeling to greet the male counterparts. That a woman in power can be in a similar position with a man and still deemed the perpetual student and inferior is truly still the popular African fashion.  There has never been a more difficult time for contemporary feminism.
The starting place for equality is complex, in a country plagued with child marriage, domestic violence and sexual harassment in addition to the political crimes. Sexual violence is no longer incident, it is the way of life. We have been pushed to a point where our only activism is the one we have behind screens where they do not see our bodies, where they cannot see our faces. Meanwhile, the country continues to largely function on civil societies funded by international institutions such as European Aid, United Nations and foreign embassies, while everyday life deteriorates for everyone including those in areas deemed not poor enough for aid.  
The violence is not only in the streets, but it is also multifaceted coming in the form of poverty, from years of impoverishment by political dysfunction, and corruption that has impeded the development of the country. It comes in form of 10-year water shortages in remote areas, in form of lack of minimum wage for domestic workers, lack of inheritance laws for women, of no sexual harassment policy and criminalization of sex work. 
Zimbabwean women have learnt hard lessons of survival through the stifling hand of patriarchy and with the ruling party in power for over thirty-six years.  The dysfunction of each day is worse than the last, yet no day is out of the ordinary. No one can be certain what the future holds with the next election three years away.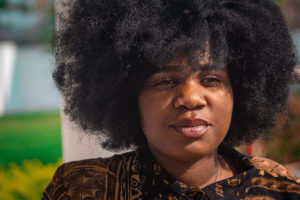 Tinatswe Mhaka is the founder of Feminist Voices Zimbabwe, and a women's rights lawyer. Her focus is digital storytelling and community outreach in order to tackle access to justice for women in Zimbabwe. Find on Twitter @MhakaTinatswe