On September 4, Lebanon's caretaker Minister of Labour announced that new system had been finalised which would be a major game-changer in the labour migrant-employer relations. The Standard Unified Contract (SUC), she said would therefore abolish the abusive and inhumane Kafala (sponsorship) system that has for decades been used to bring millions of foreign migrant labour to Lebanon without any guarantees of protection. This came at a time of global outcry about the conditions of domestic workers who have been left on the streets of Beirut and camping around various embassies calling for evacuation amidst the hardest economic crisis that Lebanon has witnessed, following the devaluation of the Lebanese pound relative to the USD.
Too many migrant domestic workers have not been paid by their employers for months and even years before the crisis, others have no travel documents as they are confiscated on arrival by the Lebanese employer. Almost immediately after media interviews, Minister Yammine then contradicted her earlier stand, rushing any hopes that the  Kafala system was abolished. The measure to actually abolish this system would in fact require a legislative change as an enforcement mechanism to ensure Lebanese employers/sponsors and recruitment agencies will abide by its terms.
Current situation
We at Anti-Racism Movement-Lebanon have been organising against this system of injustice and calling on relevant authorities to find more humane labour contractual systems and end discrimination and ill-treatment of all migrant workers. Lebanese employers are still forcing migrant domestic workers onto the streets and at the consulates of their countries, without any sort of accountability or legal prosecution by the Lebanese authorities. In many cases, they are not even leaving the passports with the workers when they drop them off at consulates and in some cases, they even keep their phones and clothes. Over the last few months, there's been a little shift in responses form various consulates in terms of a direct response to this.
However, the work and efforts being done on the ground to evacuate the workers are mostly being put and organized by migrant activists and a number of Lebanese allies and supporters. That is, those people are taking care of the administrative and bureaucratic steps needed for evacuation in addition to fundraising for tickets.
After the August 04 Beirut explosion, many relief initiatives and organizations have actively and explicitly excluded migrant workers from the relief response. In addition, the government limited response didn't include them.
Many migrant workers lived and worked very close to the port and hence a lot of them lost their jobs and homes, and many ended up on the streets or in already-overcrowded houses.
It's important to note that the majority of migrant workers do want to be evacuated as the living conditions in Lebanon are only getting worse; especially that it is expected that the Lebanese Central Bank will stop subsidizing basic items such as bread and fuel, which means the dollar crisis will worsen further. Furthermore, Lebanese landlords continue to illegally evict migrant workers who are unable to pay rent due to job loss, as well as the ones who are unable to pay rent on USD. while this is, of course, illegal, thinking of legal justice for migrant workers losing a very basic right such as housing, seems quite farfetched in a country that literally legalizes and legitimizes their exploitation through an entire system of modern-day slavery.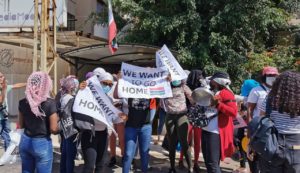 Ethiopian workers
The Ethiopian community is the largest of the migrant communities in Lebanon. They were the first to be abandoned by Lebanese employers. Currently, they are finally travelling back to Ethiopia after efforts by the Ethiopian collective Egna Legna who have been organizing a relief campaign since the first COVID-19 lockdown in March. They continued the support as well as fundraising for tickets following the Beirut explosion. The consulate had been covering the costs for a small number of women, while most of the costs were covered by several charities in addition to Egna Legna.
The International Organization for Migration (IOM) told LBCI in a recent report on September 12 that the evacuation flights would begin in "around one month", after ensuring everyone gets back their unpaid wages. The report also mentioned that they were promised by the authorities to be evacuated before Winter, and the exact date was not specified. And here, it's crucial to point out that even after the workers are successfully evacuated, there must be a redress plan to get back their unpaid wages. Very often, migrant domestic workers are owed thousands of dollars worth of unpaid wages by Lebanese employers. 
Kenyan workers
Kenyan workers started an open protest on August 10 after spending nights outside their consulate demanding to go home. The protest is over now as there have been efforts to evacuate the workers back to Kenya. This was because of the courage and persistence of the women migrant workers, and the efforts of individual supporters who frequently called on the Kenyan consulate and followed with the Lebanese General Security to seek an exit clearance.
Most of the tickets and costs of PCR COVID-19 tests (mandatory in order to be allowed on the flight) were covered through a fundraiser organized by individuals. It is reported that the consulate only covered the costs for 12 women. Fortunately, all Kenyan women were finally evacuated from Lebanon by September 14. Here is a video from the beginning of the protest.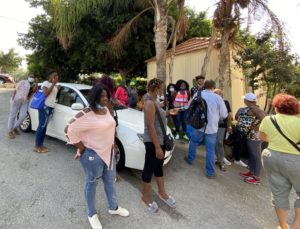 Cameroonian Workers
Just last week, on September 16, Cameroonian workers protested at their consulate demanding to be evacuated from Lebanon. The lists of their names were sent to the General Security for exit clearance months ago but the workers are yet to get updates or follow-up by the consulate. Several women brought receipts of their ticket payment and demanded to take the lists of names so they would go and follow up themselves with the General Security themselves. Such is the inaction or slow pace in response to such dire conditions of African migrant workers stranded in Beirut.
The consulate claimed that 40-50 women were already evacuated on August 22 while in reality only 8 travelled that day and none were financially supported by the consulate for the tickets. The women raised queries around the procedure saying many who had paid earlier hadn't been evacuated with that group. They are yet to get a clear response from the Cameroonian consulate. This fundraiser organized by a Lebanese person in Australia and a Cameroonian woman in Lebanon is supporting Cameroonian women to evacuate.
Gambian Workers
Gambian workers protested outside their consulate on August 20, 2020 demanding to go home. The Gambian Ministry of Foreign Affairs announced on August 25 that the consulate was coordinating with Lebanese authorities and that all women who wished to leave would receive clearance and waivers of penalty for overstaying visas. The women finally travelled back to the Gambia on September 4. All tickets and PCR costs were covered by the non-profit "Action for Humanity", as well as all other costs.
Ivorian Workers
Migrant workers from Ivory Coast sent a letter on May 19, 2020, to the consul requesting to be evacuated from Lebanon, along with their names and numbers as the pandemic impact was starting to be felt across the country.  Since then they had not heard back from the consulate.
On September 7, 12 Ivorian women went to the consulate to check on the progress of their requests for evacuation. They were asked to wait until September 10, and that too passed. They are yet to hear back as they were told the Lebanese Foreign Ministry was closed that day. Currently, 13 women are waiting for a response from the consulate to travel back to Ivory Coast.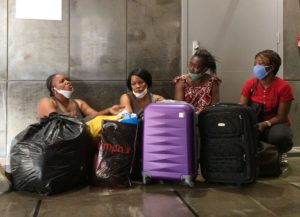 Sierra Leonean Workers
After months of waiting, the first evacuation flight to Sierra Leone carried 80 women on September 20. Aline Deschamps, a journalist who's been following up and fundraising for Sierra Leonean women, posted this video of Sierra Leonean community leader Lucy announcing that 80 women would be finally evacuated on September 20 and 27 and on October 4.
Sudanese Workers
After protesting for over 2 months outside their embassy, which had been closed and not cooperative, Sudanese workers are finally going back home. Like others, they lost their jobs due to the lockdown and the economic crisis and their costs were covered by this fundraiser organized by 2 individuals.
Nigerian Workers
The Nigerian embassy has been evacuating a good number of workers from Lebanon. However, it has reported that it no longer has the financial capacity to evacuate more. So any remaining Nigerian workers will depend on the good support of individuals in order to repatriate. ARM sent a letter to Nigerian officials requesting more funding from the government in addition to explaining the severity of the situation in Lebanon. We are yet to hear from the officials.
The plight of migrant domestic workers in Lebanon should be understood, analyzed and resisted through an intersectional lens. All of this suffering that they have and continue to endure is largely due to the abusive Kafala system that entangles them in a complex web of law and practices built to act against them. This plight is rooted in a deeply patriarchal structure of devaluing domestic labour, on top of racializing the people who do this labour. Workers deprived of rights is manifested at the intersection of class, race and gender, and further enabled by the global system of migration that ensures profit through exploitation and abuse of 'invisible' labour and racialized bodies. This is all in addition to the deliberate marginalization and negligence not just by systems and regimes such as Lebanon's, but also by the home countries that do not do enough to stop trafficking nor to protect migrants before and after they are subjected to this abuse. For now, the solidarity shown by groups both in Lebanon and abroad is what's largely sustaining the migrant workers in these times.
Note: All photos by Anti-Racism Movement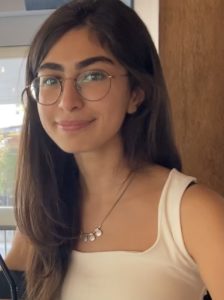 Farah Baba is a feminist organzier and the Communications and Advocacy Officer at the Anti-Racism Movement, an organization that works and advocates for the rights of migrant workers and migrant domestic workers in Lebanon.