These past weeks have been crucial for Ethiopian medical professionals as the nation-wide protest started by medical interns extended to  medical doctors and students across the country. The medical professionals are demanding a stop to long-standing abuse and seek answers from government authorities. There was even a threat of a strike if the much-needed attention was not given to their plight. Among others, the medical workers face poor working conditions and meagre salaries and they seek systemic and policy interventions.
On May 04, the medical workers finally got a meeting with the Prime Minister Abiy Ahmed   over these challenges but the meeting to their utter disappointment, turned into a blame game and mockery statements were made, including towards female doctors who spoke.
Earlier on March 13, 2019 at Jimma University Teaching Hospital, around 350 km south-west of the capital Addis Ababa, a female doctor was beaten by family members of the patient she had been attending to. Instead of protecting her rights, hospital officials scolded and mistreated the doctor which fuelled  anger among members of the profession.
This protest against mistreatment of a female doctor connected well with an earlier campaign where female doctors, medical interns and residents had called for protection in the face of sexual harassment, verbal and physical abuse in their workplaces. They had used  #HearMeToo hashtag to share their experiences during 16 Days of Activism in 2018. These horrific stories of harassment and abuse and ill treatment were shared on the social media page by Ethiopian Doctors named "hakim", literally meaning Doctor in Amharic.
In one of the stories, an unnamed doctor shared on the page:
"I was an intern at one of the hospitals in Addis Ababa, on a typical night of duty, I went to a room designated for interns. While I was about to sleep, something happened. I saw a male resident on duty had followed me to the bedroom. He came to me and sat on the bed. I tried to talk to his senses, calmly at first. He tried to forcefully kiss me while I pushed him hard and told him to leave. He told me it is a female intern's duty to do sexual favor to the residents during duty. Then he continued trying to force himself on me. I tried shouting, crying for help. That didn't stop him. He stopped when I told him I have a boyfriend."The female doctor shared on the challenges of reporting such incidents. "I was so angry that I couldn't stop crying. I thought of reporting the incident but to who? To other residents who oversee us? To his friends? My only choice was to pretend that it never happened. This happens in other hospitals, to my other friends too. But what can we do?"
These stories for caught the attention, sparked debate in the Ethiopian social media sphere and were picked up by the mainstream media calling on government to intervene. The Dean of the Faculty of Medical Science College at the Addis Ababa University that owns one of the oldest  referral hospital in the country, Black Lion Hospital, promised to set up a team to investigate the cases and make perpetrators accountable.
That promise is yet to be put into action and government didn't respond much at the time hence the resurrection of these cases of sexual abuse as part of the wider protest against working conditions. Female doctors on top of grappling with sexual harassment and abuse, they too work long hours and largely live in poverty. Women in this profession also are not treated (equally)as other employees of the public service.
Ironic that in a country where the ministry of health runs a campaign to lower maternal and child mortality and encourages women to breastfeed for at least 6 months, health workers themselves cannot be accorded full maternity leave.  Maternity leave for female employees in public hospital remains just on paper legally enshrined in the Ethiopian Labor law.
Dr. Helen Tewdros, one of the leaders of the nationwide protest has been outspoken to the specific challenges women in the medical profession face.
"A woman in formal employment should get twelve weeks maternity leave. This law is still not applied to our medical schools so women in medical residency programs are being forced to get back to work with in four weeks of delivery," she narrated. "They do not have daycare options at their workplaces so female doctors face this immense challenge or are forced to choose between their career and their new born babies."
A separate law provision for public sector employees (civil servants) grants 4 months of maternity and establishment of day care centers for employees at public offices but nothing has been done to make these rights a reality for female doctors.  These hard experiences were recounted by female doctors and other medical staff at that meeting with the PM Abiy.
One  medical doctor was seen crying and lamenting, "how can they make me go back to work just one month after I gave birth?" But the Prime Minister to the surprise of many responded "your issue is personal, go get it addressed with the Minister."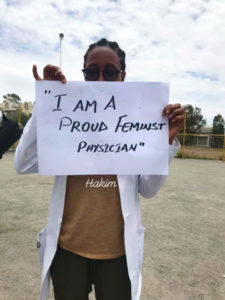 There was a huge backlash and social media uproar after the meeting was televised. Doctors and other professionals expressed their anger and vowed to continue to protest and to stage a strike. Later the ministry of health posted a letter on the Minister's official Facebook page stating that government would address the questions raised but the questions regarding violence specific to female health professionals were not among.
The Ethiopian Medical Women Association has membership of around 2000 female physicians working all around the country. The abuse women working in this rather highly respected but male dominated profession seems least on the priority list of a government that continues to ride the wave of gender parity talk, both home and abroad.
We have to make gender parity more meaningful by listening to women's experiences and seeking solutions to these challenges.
Even as the larger protest remains unresolved, the voices of female doctors and their plight must be taken seriously and supported in their fight for a safer working environment.
Bethlehem N. Woldeyohannes is a Feminist Writer, a Newspaper Columnist and Media and Communications Consultant based in Addis Ababa.