As the rest of the world is more than half way through its year, we are starting off a new one in Ethiopia. Walking into 2012, while we all have plans and new personal milestone, most Ethiopians are most looking forward to and, more than a little bit concerned about the coming elections in Ethiopia. 
Many Ethiopians are excited to see what the campaign season will bring to the table, especially since there's expectations that the 2012(2020) election, will perhaps, the most free and fair election of Ethiopian history. What concerns me about the elections and campaign year is actually what we as women are going to get out of it. I want us to question how much of our consideration goes into what we need as women. How much effort and do we put into articulating what we need as women?
According to Electoral institute for Sustainable Democracy data, more than 15 African countries will be holding elections this year. So, this conversation is not only relevant for Ethiopian women but for many women across Africa that will hopefully be taking part in free and fair elections next year. Before we dive deeper into this conversation, it's perhaps important to remember that women and men need many of the same things. We need democracy, economic progress, dependable public services and peace and stability. 
Every decision that a politician makes is likely to affect us more, especially since women are less likely to be present when these decisions are made. Every decision made is either more likely to strengthen us or leave us behind. So, it is important to speak up on these decisions and policies on a daily basis. 
An important element in having our perspectives understood and considered essential for decision makers is that ensuring that our vote is earned. That we are able to mobilize under the various issues that unite us so we can use this power to demand political parties and leaders the right decisions. It's time to make the 'Women's vote' a thing here in Africa.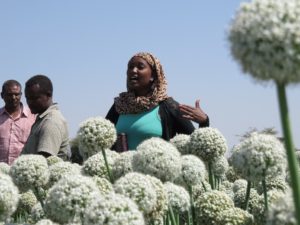 A 'Women Vote" does not imply that women have the same point of view and will perceive problems and solutions similarly. But research shows that all though not all women have the same opinions or interests, that a greater number of women have similar priorities when they pick their candidate and their politics. The similar experience  that have shaped us give us a certain perspective on what is most important for them to move their community forward. It's also important to discuss the factors that have hindered women's participation.
In Ethiopia, women's political participation has been hindered by negative stereotypes of women in positions of leadership, economic factors and the roles women perform where the majority of unpaid care work continues to be shouldered by women.
My ask here is that we recognize gender identity as an important factor in understanding how policies will affect our lives.. Women's movements must make time to create forums where women and those concerned about women's well being can come together debate to identify key policy interests for women across the board. 
I believe it is important that women such as myself; living in cities with access to information and infrastructure that is unimaginable to many women across Africa, hold conversations and learn from the experiences of women largely left out by systems. Informing women's choice insures that their vote has meaning.
In Ethiopia, Prime Minister Abiy Ahmed has taken a lot of strides to bring more women into higher positions of power in the past year. This is great but we should recognize that while female appointments and quota systems are important they are most successful when they supported by strong grass root movements. Many of the things we are asking for won't change because of the sheer number of women in parliament or council of ministers. 
Real changes will come about when we can mobilize and make our interest worth the political risk. Critical issues in Ethiopian that require our mobilization won't be achieved without our active participation. A great example of this took place just last week when the parliament choose to omit a clause that gave favor to women political candidates, without any debate on the floor. Furthermore , the changes I know many women activists and legal scholars would like to see on the clauses on rape and laws that properly address sexual harassment generally, won't happen if we don't mobilize for action. 
In addition to these laws on Gender Based Violence, I'd like to see civil societies in Ethiopia vet and analyse all proposed policies by politicians. I want to see a forum where policies are discussed and debates based on how women in rural and urban areas will be affected/impacted.  When politicians tell us about the 'trickle down' effect of their policies, we should be asking when exactly they are going to trickle down to the rural women that have no access to public services. It's women that are expected to take more responsibility in the households when government cannot provide public services. 
When politicians discuss laws that limit the active participation of civil societies for the sake of the developmental state, we should be asking how exactly we are expected to create and maintain an autonomous women's movements that can mobilize us around issues that are important to us. As I have stated about, successful women's rights movement's require autonomy to hold government and all institutions accountable . 
 We must reach out women to bring them into political dialogue because the truth is we can't afford to be uninterested in a system that has so little of our representation.
A system that determines so much of ours and our children's future. Understanding this more and encouraging other women to do the same will be my agenda for the year. 
A happy 2012 for all those celebrating across Ethiopia, I hope the coming year is a year of compromise, fierce debate and purpose. A year our children will look on to and mark as the beginning of the rise of Ethiopia.