On February 07, 2022, Senegal won the country's first African Cup of Nations at Olembé Stadium in Cameroon. The victory, well-deserved, had come after two previous failed finals in 2002 and 2019. It ended the 60-year chase for glory in continental football history. Like many Senegalese, I was following the game with all the tension till the end.
Upon the final whistle, I called my little sister who is 16 years old to ask her not to go out to celebrate. I told her to make sure none of her friends did either. She was a little bit disappointed but didn't fight it. Even as millions of Senegalese thronged the streets that night to celebrate and the next day to welcome parade for the team as they arrived from Cameroon, my sister understood why I was asking. She understood my plea that as a young woman, her experience in a crowd full of men could turn dark quite quickly even is such a seemingly joyous historic moment.
It's such a shame that many young girls by my sister's age will have already experienced sexual harassment or abuse that is so normalized. And without saying the words, they know exactly why they may not be allowed outside during one of the most joyful moments of our country's history. A week later the first thing my sister said on our video chat was "I'm not going outside."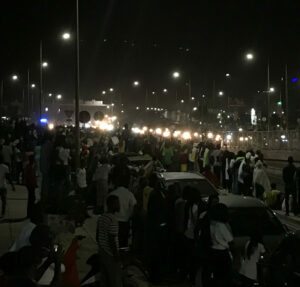 In the middle of all the ecstatic celebrations and the screams of joy, I went on Twitter and asked women who wanted to go to the streets to be careful. While I know that prevention does not stop assaults, I just needed to do it as a reminder that women are never safe, even in moments of celebration, including this one—one of the biggest we have ever seen in the country. My tweet, however, was met with contempt by men, who kept telling me that they would protect women and that I should keep those 'negatives feminists views' to myself. I am used to those types of responses from misogynistic men, so I didn't even blink. Every time I watched the crowds swell on TV that week, I'd look at young women and girls and fear for their safety.
It didn't take long for my fears to be confirmed. In between Instagram stories of people laughing, crying, dancing, there it was—a woman who was snatched away from the crowd in front of her friends by 10 men. They tried to rape her, and she posted a picture of her face dripping with blood. Thankfully, she fought them and was able to get away. When I posted about what happened to her, my messages were flooded with testimonies from victims with similar stories: "I was grabbed by the boobs." "A guy forced his finger inside my skirt." "Someone ejaculated on my skirt, I could feel him masturbating, but I was so petrified that I couldn't move…" Neverending stories of assaults, all of which will leave hundreds of women traumatized for the rest of their lives.
https://twitter.com/CAF_Online/status/1491132224837537793
A week after the win, another horrific story surfaced. This one was of a minor girl with disabilities who was kidnapped and raped for 24 hours by eight young men between the ages of 19 and 22. They were arrested and then released for "lack of proof." I don't know where that story is going to end up, but if the history of our justice system tells me right, I can speculate and say nowhere. A young woman is broken forever and justice is never going to be served because in my country Senegal, rape is banality and casually excused. Women are disposable. They endure all sorts of abuses, but when they gather all the bravery there is and speak out, they're always blamed. 
Most people in Senegal and the rest of the world will remember February 2022 as the month our country won the African Cup of Nations, but for many women, the memories are completely different.
Tainted by violence and it's extremely sad. It's awful and heartbreaking that we cannot enjoy a football win the same way our male counterparts do because they decided to abuse us while celebrating. 
Speaking out remains the most difficult because if victim-blaming is commonplace in everyday sexual abuse reports, now imagine trying to speak out when the country is only hearing one thing – we won. The pushback on stories and lack of attention from the establishment – media and government is at easiest in such times.
"Let's be clear though: it is not football that makes cisgender men abuse women and children. It is not the alcohol those men readily consume while watching football that makes them hurt women and children. And win, lose or draw, the score doesn't make a man beat a woman. Patriarchy does. It enables and protects abusers. It socializes them to believe they are entitled to our time, attention, and bodies," Mona Eltahawy a feminist author says in her essay When Football Goes Home.
And the reality of this violence was on display this February. The government's silence about the abuse is also no surprise. They've always had the same responses in times like this. It is only in 2020 that Senegal criminalized rape. We had hoped, in all the celebratory events sponsored and held, for an acknowledgement—just a word for the victims, but there's still nothing to this day. 
Sports command the most attention from men and must be the very platform used to bring to light what ails our society. We have seen so many countries and clubs carry banners like 'Refugees Are Welcome', 'No to Racism', and many currently rightly holding moments of silence for victims of the ongoing Russian invasion of Ukraine.  The Confederation of African Football (CAF) also rightly ensured to hold moments of silence for the victims of a stampede outside Olembe Stadium in this 2021 AFCON tournament. These actions even as symbolic as they are send a message and indeed build awareness of a given problem of the time. It is time to break the silence on violence against women in relation to sports and sports events on the continent.
https://twitter.com/CAF_Online/status/1492880169304047620
What happened in Senegal, has happened before but the continued systemic silence on women's safety obscures these stories in many countries. We do not want the same stories repeated, we don't want to see women's bodies and lives become turfs on which men play and prey both during and after such big tournaments. I hope African governments and social justice advocates across the continent can do something before the next AFCON final in 2023 which is a few months away in Ivory Coast. 
We want change. More recognition, more severe punishment and accountability. We want better for women on the continent. I want better. For a day where we can fully enjoy our humanity without being a commodity to men. But that requires governments and men themselves to step up to the task. We can no longer call on women to just stay home to avoid being violated whether their countries win or lose.
Aïssatou SENE is a feminist and an advocate for women's rights. She works with various organizations that advocate for the self-preservation, wellbeing, reproductive freedom and economic equality of women in Senegal and worldwide. Aissatou is also  the founder and Ceo of Bélya, a Sustainable Fashion Brand that primarily works with women. Follow her on Twitter: @SlutandSassy