The month of march otherwise known as the Women's History Month with 8th March being International Women's Day is a time when gender activists tune up messaging and conversations on gender equality, celebrate the tireless work of activists central to the global push for equality and those who strive every day to make women's rights a reality.
As an Ethiopian woman, we have a lot to celebrate in terms of having the legal frameworks and instruments in place to ensure legal rights of women and full participation in the country's economic and political sphere.
In Ethiopia, there is no better way for us to start the month than celebrate the battle of Adwa on 2nd of March. This year marks 123 years since our forefathers and mothers fought and defeated the Italian invasion of our land. Together the people under King Menelik faced the Italians who had more modern warfare.
Although Empress Taytu, the wife of King Menelik, is celebrated for her role in the war and the victory, and also few female fighters are mentioned here and there, little has been said about the role of women in that war. Historians have said between 20,000-30,000 women are thought to have participated in the war albeit mostly in civic duties and those who directly fought might be in hundreds. There is no way to know exact figures because there was no proper documentation. So most Ethiopians do not know that the women's number was that large among the estimated 100,000 soldiers that answered King Menelik's call to defend their country.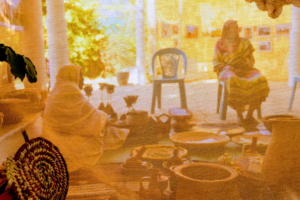 History also tells us that there were many powerful women who contributed to state building and the making of Ethiopia as it is now. Queen Eleni of Ethiopia lived between 1450-1522, for instance is among many African women who played key political and intellectual roles in the Early Modern period. Her biography can be regarded as one of the histories of Ethiopian women from different ethnicities and cultures that have had a lasting impact on the nation's socio-cultural and political reality. Yet is often untold.
Women like Eleni have challenged the social and political norms of the time through education, political leadership and diplomatic relations. The experiences of such women provide evidence of their strong leadership and diplomatic skills, as well as their resistance to political and colonial pressures in the medieval and Renaissance eras.
There are others like Queen Fura , a legendary ruler of the Sidama people of Southern Ethiopia known for having set up an administration dominated by women. The other is  Yodit commonly known as 'Yodit Gudit" meaning 'the notorious'  was a rebel leader to whom the downfall of the ancient Aksumite Empire is traditionally ascribed. Some historians now days wonder if the stories of these two was told in a fair and factual way.
The documentation and acknowledgement of women's role in our histories, all too often attributed to men, is important. We still live in a world where even at this level of industrialisation women are thought not fit to fight alongside men – whether in battle or everyday life.
It is not enough that we are grateful for these sacrifices but we have to seize the momentum and push to address inequalities in every aspect.
These women who were labeled 'rebel's for asking only to be treated as human and as equal to men, lay the groundwork for us activists and gender equality advocates to have a relatively good environment to thrive and a better one to leave to our children. It is not enough that we are grateful for these sacrifices but we have to seize the momentum and push to address inequalities in every aspect.
This year's Women's Day theme "Think Equal, Build Smart, Innovate for Change" explores the ways in which innovation can work for gender equality, boost investment in gender-responsive social systems, and build public services and infrastructure that meet the needs of women and girls.
This comes at a critical time when social innovations have the potential of providing unprecedented solutions to meet the needs of marginalized women and those at the bottom of the pyramid.  According to UN Women, 740 million women currently make their living in the informal economy with limited access to social protection, public services and infrastructure that could increase their productivity and income security. Women do six times more unpaid care and domestic work than men, with only 41 per cent of the world's mothers with newborns receiving maternity benefits and one in three women are likely to face violence in their lifetimes, yet public services, urban planning and transport systems are rarely planned with women's safety and mobility in mind.
It is vital that women's ideas and experiences equally influence the design and implementation of the innovations that shape our future societies.
Innovation and technology provide unprecedented opportunities, yet trends indicate a growing gender digital divide and women are under-represented in the field of science, technology, engineering, mathematics and design. It prevents them from developing and influencing gender-responsive innovations to achieve transformative gains for society. From mobile banking to artificial intelligence and the internet of things, it is vital that women's ideas and experiences equally influence the design and implementation of the innovations that shape our future societies.
A national report 'Women in Science and Technology' indicates that women's participation as information technology workers is growing in Ethiopia. Overall, women accounted for an impressive 41% of the computer, electronic, and optical products manufacturing sectors. Although in many specific industries such as civil engineering, manufacturing of electrical equipment, and manufacturing of machinery, gender parity has not been achieved—women made up between 30% and 40% of the labor force of most sub-sectors.  Some sub-sectors lagged far behind, however; for instance, in the repair and installation of machinery and equipment sub-sector, women accounted for less than 10% of the labor force, which is possibly a result of deep-seated cultural perceptions on the part of men and women that mechanical skills are more suited for men.  
And when it comes to using technology and thinking of creative and innovative ways to ease women's burden and striding towards equality , Ethiopia still lags behind and a lot has to be done in this aspect.
So this women's month, let's continue to push for the investments that are inclusive of women's issues and concerns to address the inequalities our society still grapples with. As the saying goes, no country gets wealthy or developed leaving half of its population out and behind.
Bethlehem N. Woldeyohannes is a Feminist Writer, a Newspaper Columnist and Media and Communications Consultant based in Addis Ababa.