Womyn's day is here and most of this month we will once again see the media awash with images of womyn's empowerment, detailing how far we have come, and how much progress has been made. Media houses will parade all their womyn panelists and finally invite more than one womyn to speak on their prime time political shows. For one day, we will hear of how the world cannot live without womyn; "the mothers of the nation". This of course is all hogwash, and I will explain why.
Hours after Women's Day celebrations in 2018, Ugandan parliamentarian for Bugangaizi East MP Onesmus Twinamatsiko publicly advocated for violence against women. In his words, men must discipline their wives. They must "beat her to streamline her." Despite these unlawful and degrading comments, Twinamasiko like many of his counterparts, remains unpunished. The same is true for the State Minister for Water and Environment Ronald Kibule who assaulted a security guard and at the time he was serving as the Youth State Minister, is quoted to have said that "indecently" dressed womyn deserved to be raped.
Both these men continue to serve in parliament and purport to represent the voices of the people in this country. Their fellow legislators have seemingly moved on, and yet they face no real repercussions. This normalization of violent words and actions can only be interpreted for what it is; a lack of actual political and otherwise will from those who have the power to put an end to this. While many will argue that, "these are just words", it is important to remember that the 2016 Uganda Demographic and Health Survey revealed that up to 22% of women aged 15 to 49 in the country had experienced some form of sexual violence.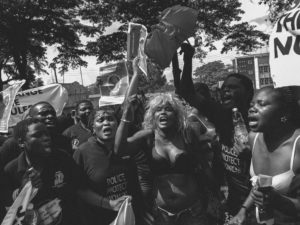 The Anti-Pornography Act which enables policing womyn's dress codes and the Anti-Pornography Committee which is mandated to enforce this law has targeted women. The committee has made it their mission to target victims of revenge pornography as opposed to the perpetrators, the laws in Uganda continue to be weaponized as another tool to police womyn. So far three women have been arrested, some sent to prison over leaked private videos.
There have been many justifications for the need of laws and policies that ensure decent dress codes and ways that reflect "African and Ugandan culture and values."
This need to dictate a code of morality for womyn is contradictory when you factor in the fact that there are not enough laws being passed to erase harmful cultural practices that perpetuate harmful stereotypes against womyn.
Proposed progressive laws such as the Marriage and Divorce Bill, the Sexual Offenses bill which would ensure protection of womyn before, during and after marriage continue to languish in parliament for over fifty years. The reality is that the laws and their implementation are often gendered, focusing on aspects of womyn that they deem immoral and shameful.
The Anti-Pornography Act is a good example of this. Dubbed the Anti-Minis skirt law, the Act is a clear illustration of the ways in which the law has been used against womyn and how this has resulted into policies in different public and private spaces dictating how womyn should behave, dress, for example the dress code applied by Public Service, and the consequences of that on womyn's safety.
Barely a month has passed since the State Minister of Tourism, Godfrey Kiwanda insinuated that "curvy womyn" were the next tourist attraction. The underlying dehumanization of that statement was lost in the false equivalences paraded both in media and elsewhere by those who argued for it. Once again, the contest has been allowed to go on with no critical analysis of the ripple effect "beauty pageants" have and of the actual purpose of them.
There is also the case of Brian Isiko, a 25 year old man who for months harassed Kabarole Woman MP Sylivia Rwabwogo, against her desires, despite cautioning him to stop to the point where she felt endangered by his actions. Not surprising was that the media, and most of the public chose to report harassment as "love messages" thereby trivializing the issue and adding to the harmful narrative that this type of harassment is love. These are just but a few examples of the daily realities of womyn in this country.
Affirmative action and commemorations do not erase the deep structural inequalities that are held together by individuals and institutions that aid in the stereotyping, erasure and allowing for violent words and actions to go unpunished.
Despite all this, countless people remain committed to the fight, often times risking their lives and sanity to challenge the structures that seek to hold them in chains. The work done to educate, challenge laws and stereotypes and reject binary ideas of what womynhood looks like can not be underestimated.
As we celebrate womyn's day, may we be reminded that the progress we claim to have made, is a lie.
Patricia Twasiima is a feminist lawyer working and living in Uganda. She loves wine and tweets at @triciatwasiima