The women of Lusaka Zambia will take a resilient leap into action this weekend to join various women worldwide in a march that has sparked what could be the beginning of a long-awaited revolution.
The Zambia women's march follows the 2017 march by women in the United States after Donald Trump was inaugurated as the 45th President. Scores of women took to the streets in protest because of how tensions arose due to Trump's sexist and anti-women remarks. The year 2016 was a very dark year for women in America. Top politicians who were trump supporters also made several remarks that were degrading to women, and as a result, women took to the streets in protest.
So how has a women's march in America resonated with a group of women in Lusaka, Zambia? This year marks the second time in which Zambian women will take to the streets of Lusaka. But why do you ask? The answer is straightforward. Zambia has had a history of a mixture of both cultural and legislative sexism. Not only do various laws, policies and systems have rules and regulations that are disadvantageous to women, but Zambia has had a cultural problem which teaches profoundly sexist beliefs and principles.
In 1991 Zambia was declared a Christian nation and the downside to this has been enforcement of stringent sexist rules under the guise of Christian religious morals and values in a country that is multicultural and has people who share different religious beliefs. It is for this purpose that women in Zambia have adopted the idea of an annual women's march to protest for their rights and stand in solidarity with women across the world.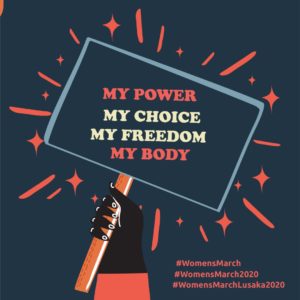 Zambia still continues to have high levels of gender-based violence. In the last quarter of 2019 alone, 6,788 cases of gender-based violence were recorded countrywide with 770 of those being rape of young girls.
Several girls continue to drop out of school because of early marriage, responsibilities at home and period poverty. Most girls can not attend school when they have their periods because they don't have sanitary towels, let alone know what they are. Girls have been reported to use mud, charcoal, or leaves as pads and there is also a system where girls are isolated in a hut and have to dig holes to release menstrual blood.
Health care continues to be a problem for women in Zambia as 60 per cent of Zambians living below the poverty line. With numbers of cervical and breast cancer increasing in the country, many women living under the poverty line can not afford the various medications, and in some cases, the required treatment is not available in Zambia.
Socially, women are not safe. Recently there have been several kidnappings in the city of Lusaka. Women have also reported incidences of being drugged at bars and local hotspots only to wake up in a place that isn't their home with everything stripped and stolen from them.
Women's dressing has always been policed in the country. Women have been subject to public humiliation, catcalling, having their clothes ripped off in broad daylight, beatings and rape. The First Lady of Zambia recently caused a stir when she made remarks that insinuated that the way women dress is the reason for rape. Tons of Zambians took to social media to show their disappointment, and most of the reports by various media outlets were deleted.
Women continue to lack representation in various positions of leadership with only 17.6% of seats in parliament occupied by women. There's still a lack of political commitment to women's rights even when these issues are in the manifestos. This has led to a growing concern for women of marginalisation and even more so with Zambia having an upcoming election in 2021.
The global march has various objectives and points every year which include women's rights, immigration reform, healthcare reform, reproductive rights, the environment, LGBTQ rights, racial equality, freedom of religion, workers' rights and tolerance. This year the women in Zambia have also come up with seven key points that must be addressed by the Zambian government alongside the global marching points.
Call for an end of period poverty by requesting that pads are tax-free
More significant action against rape and rape culture
Inclusive Education
Sexual and reproductive health rights
Healthcare for all women
Worker's rights
Disabled women's rights
Last year's march was spearheaded by Situmbeko Wambulawae, who runs "Zed Feminists." She did a remarkable job and gathered women to walk along the great east road in Lusaka, one of the busiest streets in the city. Women and children came in numbers to show their support. They sang local songs and danced while they marched. The spirit of womanhood was alive, and it was a vibrant and colourful display of how powerful the unity of women is.
The march showed the zeal, willingness as determination women had to march for their rights. Women were carpooling and sharing rides, others who were late jumped out of cars in the middle of traffic to join the marchers as this was surely a groundbreaking event.
This year, the march takes place on the 18th of January to keep the vision of the women's march alive in Zambia. This year, two originations, Sistah Sistah (@SistahSistahFo1) and The Feminist Coven (@FeminsitCovenZA) are at the forefront to keep up the momentum so that the march and its message and power aren't forgotten. They have partnered with the local Global Platform, a branch of ActionAid Zambia and other grassroots women's organisations.
The hope is that the march will expand into other provinces in the country and most importantly, it will bring reform to the laws and change our internalised harmful beliefs towards Zambia's women.
Lusa Matrina Chisulo is a member of Sistah Sisath and The Feminist Coven, holds a LLM intl. Business Law
Feature Photo: Women's March Zambia via Sister Marches Flickr.