Recent populist politics has resulted in a resurgence of interest in nationalism as a critical concept although much of the discussion unsurprisingly continues to be skewed towards Euro-America and male political performances. But nationalism is a complex idea that manifests uniquely in, or is shaped by the conditions characterising specific political contexts and temporalities. In many postcolonial African contexts, nationalism has been pivotal to the process of imagining and building a nation-state that fuses a desire for (mainly Western) modernity with an emphasis on a kind of cultural distinctiveness—a dialectic that engenders a complex relation between gender and the nation-state. This is the fundamental concern of Jacqueline-Bethel M​ougoué's Gender, Separatist Politics, and Embodied Nationalism in Cameroon (University of Michigan Press, 2019), a scholarly tour de force that weaves a detailed narrative of the agency, creativity and complicity of women's politics within a postcolonial nation building agenda during the "Golden Age" of Cameroonian politics. 
The importance of M​ougoué's work lies not only in its historicisation of women's politics in Cameroon—which is crucial given the gendered gaps in the political archives of many African nation-states—but also because the analysis implies that an expansive view of the gender politics of Cameroonian nationalism calls for a complex reading of politics itself, one that requires us to look beyond the usual arenas of (patriarchal) political performances and to consider how what might be perceived as "apolitical" can be made to do crucial "political" work. 
Central to M​ougoué's discussion is the notion of "embodied nationalism"—described as "a type of nationalism in which identities can be embodied through performance, emotional expression, and visual representation" (p. 8). This framing, together with the book's engagement with several subjects (e.g., political wives, activists, journalists) and sources (e.g., oral interviews, memoirs, photographs, newspapers), provide multiple concrete instances of how women's collective mobilisation and quotidian engagements become central to the construction of a nationalist ethos. The analysis examines the activities of women's social clubs as well as the gendered discourse of advice columns, culinary rhetorics, beauty contests, sartorial politics and even gossiping. 
What further enriches M​ougoué's insightful analysis is the context of her work itself—that is, Southern Cameroons—and what it suggests about how a complex subaltern positionality can complicate the politics of postcolonial gendered nationalism. Cameroon was  a German colony from 1884 to 1916 but after World War I, the territory was divided between the British and French imperialists, creating the English-speaking West Cameroon and the French-speaking East Cameroun. Parts of Anglophone Cameroon (that is Northern Cameroons) voted to join Nigeria after independence. The other part (Southern Cameroons) voted to join French Cameroun to form a "federation of two states [albeit nominally] with a central government" (p.3).  This became known as the Federal Republic of Cameroon with Ahmadou Ahidjo as president and John Ngu Foncha (the Prime Minister of West Cameroons) as vice president. The increasing marginalization of West Cameroon from the early 1960s onwards and the creation of a one-party state, renamed the United Republic of Cameroon, under the presidency of Ahmadou Ahidjo made separatist politics a crucial dimension of the nationalist politics of Southern Cameroonian women.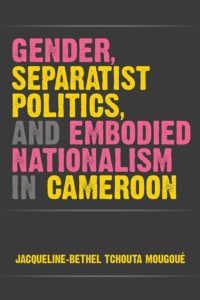 In focusing on the differentiated politics of Southern Cameroon within this political oscillation, Mougoué is able to highlight "women's efforts to draw cultural distinctions between competing forms of nationalism" (p. 7), with considerations for how context shapes the gendered registers of postcolonial nationalism. Most importantly, this gendered politics occurred against a backdrop of the hopeful exuberance of the immediate post-independence era with its associated sense of autonomy, signs of urbanization and increased opportunities for women's political participation. 
This contextual complication, as M​ougoué's analysis shows, results in contradictions in the outcome of women's political action. For instance, the social changes that accompanied urbanization and women's increased access to formal (Western) education not only created opportunities for envisioning progressive politics but also deepened anxieties about women's changing status. In the context of separatist politics, this contradiction is further reflected in discourses and practices that sought to juxtapose constructions of ideal Southern Cameroonian womanhood—with its elitist undertones—against a perceived problematic (Western/French) East Cameroonian womanhood. 
M​ougoué's discussion of the transnational influences in Southern Cameroonian women's politics is one of the many strengths of this book. Besides explaining the colonial influences on Cameroonian women's politics, the discussion shows how the ideas and activities of female political elites like Anna Foncha were shaped by their international engagements and travels. Additionally, the discussion highlights the need to be attentive to alternative understandings of the transnational which include how influences from other African contexts (e.g., "Dear Dolly" [in Drum Magazine] and West African newspapers) shaped gendered discourses in Cameroon.  
Most importantly, many of the book's themes resonate with patterns in the history of women's politics in other African contexts. For instance, the complicated use of the rhetoric of maternalism echoes Filomina Chioma Steady's observations, in her book Women and Leadership in West Africa: Mothering the Nation and Humanizing the State, about how motherhood characterises African women's leadership. M​ougoué's analysis, however, adds a layer of complexity to this argument: not only does maternalist rhetorics become a mask for negotiating women's place within the patriarchal state but it is also an enduring part of the struggle for collective power and sovereignty. Here, it is crucial that recent separatist groups like The Takumbeng continue to deploy and reinterpret strategies of traditional women's society in response to contemporary Cameroonian politics. 
This timely publication should appeal to those with an interest in the gendered dimensions of nationalism in Africa and elsewhere. While M​ougoué's work is obviously historical, it nonetheless speaks to the present politics of Cameroon. With the Anglophone Crisis still raging, this book not only contextualises the crisis for readers but also highlights why gender is an important variable in our examination of this politics. Finally, M​ougoué's discussion transcends Cameroonian politics because it is in conversation with other works on the complex negotiation between African (and indeed, Global Southern) "feminist" histories and the nation-state. Irrespective of how this book is read, one issue remains salient: the struggle for postcolonial selfhood in Southern Cameroon is yet another instance of the many ways in which nationalism, and its links with modernity, boldly writes its script on the bodies of women. 
Feature photo via Shutterstock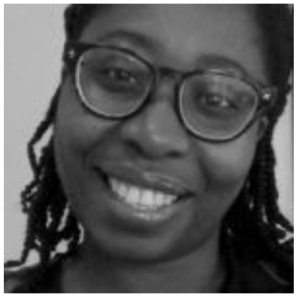 Nancy Henaku holds a doctoral degree in Rhetoric, Theory and Culture from Michigan Technological University. Her research explores the discursive dimensions of African politics and cultures, including those related to African feminist histories.