On one rainy night in early August in Khartoum, while I was driving back home, a car stopped right next to mine. In the passenger's seat, there was a young woman in her late teens with half of her body out sitting in the door, with the window open, her hair was done in curly style as she freely shouted revolutionary slogans. Next to her, was a young man in the driver's seat, who shared the same carefreeness attitude, a kind that was considered a taboo before the up rising. It has become a familiar site in Khartoum, of women shouting and singing revolutionary songs in the streets without fear of 'violating' the local traditions that limit a lot of women behavior.
For the last six months, since the beginning of the Sudanese revolution, the internet was flooded with pictures and articles on how the Sudanese women were leading the revolution in Sudan. When the picture of Alaa Salah, a young Sudanese woman wearing  a traditional toub and standing on car, singing and chanting above hundreds of people responding along, was published, it became a symbol of freedom, political strength and the beginning of a new era for Sudanese women.
This reality was put to test in late July, when a group of young women organized a small protest in front of the Sudanese Professionals Association, challenging the limited representation of women in the negotiations between the military and the Forces of Freedom and Change, as there was only one woman at the table. Protestors also demanded equal representation in the interim government and held signs calling for equality. The women said they were in the protest to lead, not to chant and decorate.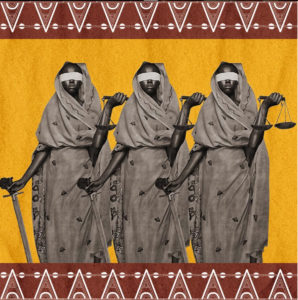 Weam Shawgi, a young feminist, was holding a sign that read "Feminist is the first revolution, may the patriarchy fall". Later that day a picture of Weam holding the sign went viral, and she was heavily attacked in social media on claims that she was undermining the Sudanese community values and that by patriarchy she meant family men. She also, received death threats. 
Weam was not new to this. In September 2018 in a televised show called Shabab Talk  in Deutsche Welle TV, she put up a great public confrontation with the Chairman of the Sudan Ulema Commission – the highest religious authority in Sudan at that time. Weam publically shouted at him, that women should not be harassed or treated like objects, that they should wear clothes that suit their desires, not community's traditions. She demanded equality in all aspects of life. Weam was reacting to his support to child marriage at the show, and claims that women are sexually harassed only due to their way of dressing.
A large ray of the attacks against Weam and the protest came from women themselves. Many women claimed that Weam did not represent them, that they protested – just like men – for the values of democracy, fighting corruption and political reform. Big part of this resistance comes from the fact that women are not ready to lose the freedom and protection provided by the public sphere. 
This conflicting message is not shocking for the Sudanese context, as public space was always accessible for Sudanese women since independence. It only becomes an issue when women start taking conversation what is labeled "far too personal."
Travelling to study, living alone in another city or even protesting remain the only ways of escape and freedom without community confrontation.
Although, it is undeniable that Sudanese women have gained great momentum during the revolution, many of the chants during protest revolved around women and more women were present in the sit-in area. Thus, the too romanticized idea of women's presence whether in local and international media remains problematic as it does not only reflect a wrong picture about the reality of women but also, it denies them the ample context within which to  call for more of their rights. 
The status-quo of the Sudanese women deserves deeper analysis, many of the biased laws against women are not only due to Sharia-law as adopted by the Omare al-Bashir regime but also more rooted in cultural and other systemic biases against women in general. The rights of women in Sudan was undermined even during previous democracies and before the arrival of Sharia law. 
Sudanese women still cannot be issued any official papers for themselves or their children without the approval of male guardians.
Women in Sudan are not allowed to work after certain hours and Sudan is not signatory of The Convention on the Elimination of all Forms of Discrimination against Women (CEDAW). 
 In August, a group of young women organized what is known as the 50 campaign, calling for a 50% representation in all levels of the interim government. The campaign is a pressure group that used many conventional and non-conventional ways, including sending an open letter to the Prime Minister Abdallah Hamdouk, proposing names of women who they believed should be in the cabinet and called for a debate on women representation with the Forces of Freedom and Change.  
The campaign also used other posts as well as challenge any resistance to equal women representation. The campaign's Facebook page gained 10,000 followers and one of its founders was invited to meet the Prime Minister among other women groups. The Prime Minister promised to increase women representation in the cabinet which he did. For the first time in the history of Sudan, a woman was appointed Minister for Foreign affairs among other three women misters. But still the cabinet suffers from obvious disproportion between the representation of women and men, and low representation of marginalized groups.
The experience of the 50 campaign proves that critical analysis of the reality and continued organizing to further our demands for change can lead to improvement in the status of women. 
The interim period should be taken as a chance to celebrate but also challenge the continued discrimination and marginalization of Sudanese women at various fronts. As democratic environment opens more gates for more activism, legal actions and organizations, to have more meaningful gains requires political will and public supported demands. It should not be easy to isolate voices like that of Weam and other women pushing for systemic changes especially patriarchal hierarchies that limit women's expression and other rights. Sudan remains a working progress for women.  
Samreen Alkhair is a feminist and woman rights activist from Sudan. She has MA in Human Rights and Cultural Diversity from University of Essex. She is the Co-founder of number of initiatives including the Sudanese Human Rights Initiative and Co-Founder of the 50 Campaign and member of FRIDA, the young feminist fund MENA advisory board.
Featured works by Dalya Ismail. Follow on Instagram https://www.instagram.com/d.i.design/