Uganda, like many countries in Africa, is going through an election period as both parliamentary and presidential positions are up for grabs come January 14, 2021. The constitution of Uganda in Article 78 provides for "special interest groups" to be eligible for a parliamentary seat in the spirit of affirmative action.  The category includes womyn, people with a disability, elderly and the army.  
Among those contesting for a parliamentary position, is Dr Stella Nyanzi running to represent Kampala district, Uganda's capital as their next for womyn MP. Travelling around Kampala, you can't miss posters of Dr Stella Nyanzi plastered on electric polls, on the cemented bricks next to the drainage tunnels. In the poster, she is smiling half-laughing staring directly at the camera, dressed in blue, the colour of the opposition Forum for Democratic Change (FDC) a political party whose ticket she on. The FDC is one of the many opposition parties in Uganda founded back in 2004 as an umbrella body called Reform Agenda, mostly by disenchanted former members of Museveni's National Resistance Movement (NRM).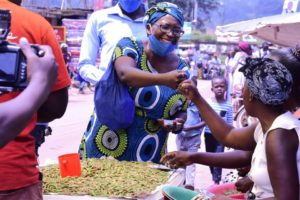 Dr Nyanzi's campaign slogan reads "I boldly speak truth to power" used concurrently with #FromPrisonToParliament. Dr Nyanzi spent over a year in prison between 2018 and early 2020 for daring to critique President Museveni and his wife Janet (who is also minister of education) for their failure to fulfil the 2016 election campaign promises and general mismanagement of Uganda. She was jailed for "harassing" the President, charged under the Computer Misuse Act for a Facebook poem that wished Museveni had died at birth. Another case is pending wherein another poem she refers to Museveni as a "pair of buttocks" all via her Facebook page.
Nyanzi, unlike many running for political office, is a feminist, this is reflected in her activism, her research and in practice. Her resistance has always taken on an intersectional feminist lens, from raising money for sanitary pads for girls from low-income households to establishing the Women's Protest Working Group which deliver the 2018 #WomensMarchUG protest on the streets of Kampala. In May, Nyanzi led a group of protesters in Kampala  against what they called "slow distribution" of food and other relief goods to vulnerable people affected by coronavirus-related restrictions.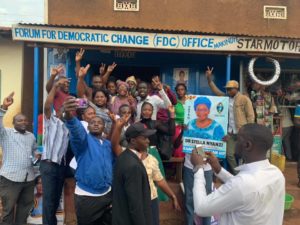 Like many Ugandans with views contrary to President Museveni's NRM, Nyanzi's activism makes her a target for police brutality. Just last week on November 18, 2020, 50 Ugandans were murdered by police during protests after the arrest of presidential candidate, Robert Kyagulanyi alias Bobi Wine. Dr Nyanzi suspended her campaign for days in solidarity of brutalised Ugandans.
Critiques of Dr Nyanzi's vying for parliament may argue that in last decade, the Ugandan Parliament majority has been held by the Museveni party with the opposition failing to have any policy and legislation impact that goes against the interests of the ruling party.  Consequently, the idea that Dr Nyanzi would have any legislation or policy change that isn't in line with the NRM is highly unlikely. 
I agree with all the above critiques, and still, I ask you to vote for Dr Nyanzi, as self-defeating as it may sound and here is why. First, her ability to mainstream ideas that are "traditionally taboo" like feminism by deploying erotic language against those in power which has trickled into the traditional media and public discourse. Be it with people both critiquing and praising her no doubt her brave challenge to status quo had brought many issues to the surface.
As a scholar and former journalism student herself, Nyanzi understands the power of media. Over time she has earned herself the permission to say things that Ugandans wouldn't dare, for example critiquing the Janet Museveni for her failures as education minister.  In a country where free speech is heavily punished, and media gagged, having a member of parliament like Nyanzi would mean those specific taboo topics will suddenly be open for debate by both parliament and the public.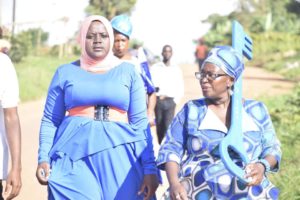 The pure chaotic energy that she brings to gendered institutions by refusing to be anything other than herself, thereby permitting others indirectly to be themselves is unseen before in our parliament. As a feminist, Stella centres all women, from queer women to sex workers to heterosexual women, making her a direct threat to the patriarchy. Additionally, Nyanzi infuses theory and practice, occupying a national position would translate to mainstreaming her radical rudeness (a traditional Ugandan strategy for unsettling the powerful through the tactical use of public insult) approach in holding government accountable. 
I don't believe that elective politics will achieve the radical change we need. However, what elective politics, in this case with Dr Stella Nyanzi if elected, could be a get way to introduce a feminist agenda to a national level like never before.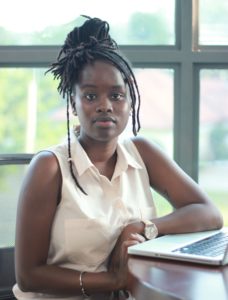 Jackline Kemigisa is a feminist journalist, podcaster and researcher. She is fascinated by the intersections of technology, media and women. Jackline, in past, ran a hybrid publication called Parliament Watch, a platform that monitors and updates on Parliament of Uganda, East African Legislative Assembly. Areas of interest: feminisms, media, history, decolonization, democracy, and governance. Find her on Twitter @JackyKemigisa