I first cast a vote in the Uganda presidential elections in 2016. That is not happening again. That exercise and what followed, made me realise elections in this country are a ceremony that gives even more legitimacy to a despot, never mind that it is a costly and extremely unnecessary stunt. This ceremony held every five years sells hope to the public psyche, the idea that we do, in fact, have a choice when at the end of the day the inevitable winner is announced.
Once the election season ends, one sighs and hopes that they could hopefully do more work canvassing for more votes in the next election. It might occur to them that the system might be designed to produce this exact 'winner' and no other, but there is a resignation that comes with realising the powerlessness.
I am not interested in (elective) politics. I am not interested in Museveni's anti-corruption walk. I am not interested in which ministers were dropped or added during the cabinet reshuffle or why it happened. I am not interested in Besigye's Forum for Democratic Change (FDC) party meeting. I am not interested in Robert Kyagulanyi (alias Bobi Wine)'s consultation meetings.
If Bobi Wine becomes president, will the material conditions of the people in the 'ghetto' change? Will women leave their houses without second-guessing what they are wearing? No! Will men be afraid to assault, make women uncomfortable in any way? Will queer people be met with more than "do what you want" indifference and would active steps be taken to ensure their safety cannot be compromised simply because? Will sex work be decriminalised? Will everyone have access to quality healthcare and education regardless of income because we wore red berets?
Freedom. This is what I am interested in.
***
"In order to be whole, we must recognise the despair oppression plants within each of us – that thin persistent voice that says our efforts are useless, it will never change, so why bother, accept it." – Audre Lorde, Learning from the 60s.
On November 8, 2017, Ugandan feminist Patricia Twasiima, used her twitter platform of about 8,000 followers to expose a man for committing violence against women. He had been reported to the Uganda Police and, of course, nothing had been done. Not to help the victims. Certainly, not to make him pay for his actions. In what comedian Amanda Seales on her Small Doses podcast calls 'the age of influence', social media is, can be social capital.
The exposure is intended to make the exposed ashamed of their actions, make others aware of who to steer clear of, embolden others who have been victims to come forward, as well as a form of retribution. Perhaps, the only real consequence. At the time, Twasiima and all the feminists who came forward in support of her brave action faced a lot of vitriol and defamation lawsuit threats that never materialised. She did what had to be done.
As 2019 came to a close, Ugandan Twitter was awash with confessions by victims of sexual assault and domestic violence. There were names, there were photos, there were dates and places. A list of abusers, rapists, paedophiles and rape apologists was compiled by the second day of January 2020. An official inquiry into Denzel, a radio presenter who has been accused by several women over the years, was launched by Vision Group CEO. One of the men facing the rape allegations has indeed followed through with an intention to sue for defamation, which he was encouraged to carry on with.
"I think I am going to stay away from women this year," one of my contacts put on their WhatsApp status. His number has since been deleted. There is an ongoing conversation on consent in public discourse.
This is my point. The system does not care for us, and we have for so long asked things of it that it is not designed to do, cannot do. But we are shifting the centres of power. And we are creating change. This. This is people power.
***
"How do you deal with things you believe, live them not as theory, not even as emotion, but right on the line of action and effect and change? All of those things were riding in on that poem. But I had no sense, no understanding at the time, of the connections…" – Audre Lorde, An Interview: Audre Lorde and Adrienne Rich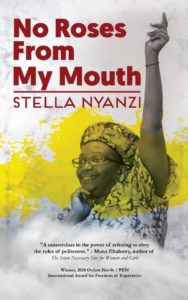 In a Facebook post where Dr. Stella Nyanzi calls President Museveni "just another pair of buttocks", she encourages Ugandans to not be shocked at what he said instead "that we allowed these buttocks to continue leading our country." Dr. Nyanzi is currently incarcerated because of another poem posted on the same platform and continues to appear various courts for the umpteenth time.
I am not interested in what the judge has to say.
Unless it is to say she can go home to her children. With no charges. I am interested in the fact that they think her words are so powerful they should not leave her prison cell. And yet, they did. The Ubuntu Reading Group has, today, published No Roses From My Mouth: Poems from Luzira Women's Prison by Dr. Stella Nyanzi.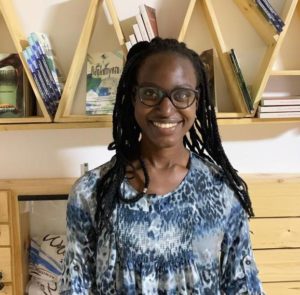 Esther Mirembe is a writer. They are the Managing Editor of Writivism, and a 2020 Centre for Art, Design and Social Research fellow.
Feature photo by Marie Ainomugisha from the #WomensMarchUg