Feminism is a political project about what could be. It's always looking forward, invested in futures we can't quite grasp yet. – Lola Olufemi
In October 2020, the UN Women declared the existence of a shadow pandemic. As the Corona Virus pandemic was raging, women and girls worldwide were being subjected to another pandemic- Gender-Based Violence (GBV). As more women went online for work, education and community, online spaces, too amplified online violence.
The Internet of today amplifies harm.
Women face attacks online in the form of defamation, hacking, impersonation, harassment, surveillance, hate speech and trolling. Furthermore, research has found that high profile women like journalists, politicians, and influencers face disproportionate violence. According to the CEPPS Countering Disinformation Guide: "gendered disinformation includes false, misleading, or harmful content that exploits gender inequalities or invokes gender stereotypes and norms, including to target specific individuals or groups; this description refers to the content of the message. Gendered disinformation has been used extensively against this group of women. People use false narratives about their sexuality or marital status to discredit their work and ultimately sway the public's opinion of them. As a result, online GBV has a negative impact on women's participation in public spheres, and women are responding by self-censoring or even opting out of digital spaces altogether.
Online violence is not the only barrier keeping women away from the internet. Women still lag behind their male counterparts when it comes to digital skills. The digital gender divide varies globally but is a constant reminder of the challenges in skills, access and affordability of digital tools and platforms. Lastly, the marginalisation of women in the technology industry has contributed to the lack of a gendered approach and gender blindness in designing digital technology products and services. Due to this oversight, technology is increasingly used to facilitate attacks on women. For instance, new research by Future Cities Canada has shown that in the hands of abusive partners and employers, innovative home technologies can be used for harm through stalking and remote control of home devices for intimidation.
Need for Women's Movements to Shape the Internet
As we theorise on ways to achieve digital feminist futures, women must take a key role in imagining and building what this reformed internet looks like. Women's organising is one of the longest-serving organised movements for reforms we have had in our lives. Yet, there is a disconnect between women's rights and feminist movements and the technology industries. There is a need for these movements to understand how technology affects and intersects with their work.
As a response, Pollicy, a feminist civic technology organisation based in Kampala, Uganda, has created Digital Rights Are Women's Rights, a knowledge kit to introduce feminist and women's rights organisations to digital rights. We also have collaborated with Paradigm Initiative in Nigeria to create a relatable, interactive fiction game that immerses players into the lives of three vibrant characters from across Africa. Aisha, Goitse and Dami are featured in Digital SafeTea, whose name is a portmanteau of 'digital safety' and 'tea', is available in five widely spoken languages. It provides scenario-based learning on real-world topics such as Zoom bombing, impersonation, online fraud and even Non-Consensual Sharing of Intimate Images (NCII) which is often incorrectly referred to as 'revenge porn'. Another resource that feminists can find helpful is the Feminist Principles of the Internet, a set of critical principles for women and queer persons to "fully enjoy our rights, engage in pleasure, play, and dismantle patriarchy."
There remains a long way to go in bridging the digital gender divide, creating safe spaces on online platforms and transforming the current capitalist and exploitative internet model into one that allows women to thrive and grow.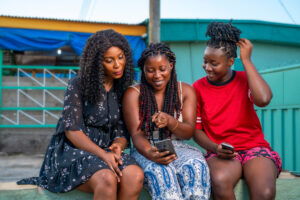 Feminism as a Browser
In light of these challenges, it is evident that we need to fix the internet. One way that we propose that the internet could be fixed for the benefit of women and ultimately everyone worldwide is through feminism.
Feminism is concerned with improving women's emotional, social, physical, sexual, and material conditions, which are affected by patriarchy and influenced by the internet. A feminist internet, therefore, would be concerned with improving these conditions. This could start at the micro-level in technology companies by re-thinking how digital products are conceptualised, designed and implemented. For instance, if product managers used a feminist lens when creating tech products, they would account for the fact that many women worldwide do not have access to meaningful connectivity. They could develop low bandwidth versions of their products that still offer the same experience with this understanding.
Similarly, if innovators were concerned about how technology is disproportionately used to facilitate GBV, they would approach design with the care and safety of women users. Currently, this could mean making reporting easier on social media platforms, protecting encryption and giving women access to digital security controls on their social media accounts and phones.
On the macro scale, a feminist internet would be one where we dismantle the capitalist, exploitative, patriarchal and militaristic structures that the internet was built on and continues to be anchored to. A good start would be promoting open-source technology and a data governance system based on transparency and accountability. Another important approach would be valuing the labour of women that goes into building the internet through fair and equitable pay, from the lowest rungs at the data labelling level to the highest of engineering ranks. Most importantly, it means declaring moratoria on surveillance technologies like facial recognition technology until we can find safer ways to use them in society.
Lastly, for the internet to be truly feminist, technology companies would have to go beyond ethics washing and commit to fixing the internet. In her 1998 essay "Where is the Feminism in Cyberfeminism?", Faith Wilding calls for the need to embed feminist values into the ethos of technology companies regarding how they design, develop, market and create value from their products. While written years ago, the lessons in her essay ring true, especially in a time when there's an urgency to make the internet safer and more accessible for women.
Authors
Neema Iyer is an artist and a technologist. She is the founder of Pollicy, a feminist civic technology organization based in Kampala, Uganda and is a co-host of the Terms and Conditions podcast.
Garnett Achieng is a researcher, writer and creative interested in creating solutions to digital inequality.
Irene Mwendwa is a lawyer with a passion for women's participation in decision making. She is a co-convener of Feministing While African (FWA). At Pollicy, she is in charge of Feminist Movement Building.