The advancement of digital technologies has had a  significant effect on democracy by transforming the way people interact with and consume information online. These technological innovations hold great potential to address gender inequalities, like enhancing women's participation in democratic processes. The general principles on the right to freedom of opinion and expression and the Internet recognise that to maximise the potential of the Internet; we must recognise the characteristics, namely speed, reach and relative anonymity.
Throughout history, people's willingness to debate controversial subjects in the public sphere has always been linked to the possibility of doing so anonymously. Specifically, using technology and the internet helps women political leaders broaden their network and foster dialogue with their constituents circumventing traditional communication channels that have historically marginalised their voices, thereby creating a level playing field for political debate due to the power of anonymity online and freedom of expression.  
However, the internet is not a utopia of equality.  Platforms also perpetuate oppressive and violent practices through online harassment and abuse and the spread of extremist ideologies, among others. This highlights the need for vigilance, regulation, and proactive measures to create a more equitable and safe online environment. Thus, it is crucial to shift towards establishing alternative digital networks rooted in feminist principles to change the status quo.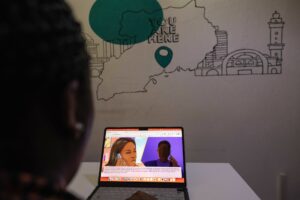 With low representation, women are unfairly perceived as less qualified and are denied opportunities in the digital epoch, further reinforcing existing inequalities in knowledge and perpetuating gender disparities.  For an extended period, African women have been underrepresented in the creation and utilisation of technology, disenfranchising them further from the governance frameworks.
With the intersectional nature of power systems and disparities, gender exclusion cumulatively affects women from diverse backgrounds. Establishing an uncensored infrastructure that provides internet access in communities and schools is vital. Many regions on the continent still need access to the internet and traditional cellular networks. Initiatives to make the Internet an affordable and accessible resource will enhance women's and girls' access.
Women in politics
Digital participation and engagement present significant opportunities for women to partake in political processes and amplify their voices. However, it is essential to consider how these opportunities impact political participation.
The Byte Bullies report by Pollicy brings to the forefront the imperative task of scrutinising the issue of online violence against women in politics (OVAW-P) concerning women politicians in Kenya.  The report spotlights the use of social media platforms for Kenyan women politicians and notes that the use of social media platforms for engaging with voters and constituents by women politicians needs to be higher in Kenya. 93 per cent of the accounts belonging to men candidates were used at least once during 2022 on Facebook compared to 80 per cent of the women politicians' accounts. On Twitter, 49 per cent of accounts belonging to women had less than five tweets a month during the campaign period.
By definition, online violence against women in politics (OVAW-P) denotes the additional harms women leaders face in their political careers. It further exposes the pervasive nature of harassment experienced by women in the political sphere on digital platforms, with Facebook emerging as the most prevalent platform for such abuse. 
In sharing her experience, a Kenya Women Parliamentary Association -KEWOPA member stated, "During the campaigns,  a network of men rose and emboldened each other to attack women online. Political opponents and their cronies discussed strategies for attacking women candidates in WhatsApp and Telegram groups. When campaigning for party primaries,  I would wake up to learn that my photos were posted in some Telegram group and edited before being reposted online with abusive captions."
Cultural and political factors contribute to the prevalence of online harassment, ultimately obstructing women's active political participation and resulting in substantial offline repercussions. Women politicians, in particular, face a disproportionate amount of gender-based abuse online, which violates their right to free expression and engagement. Organised troll armies often orchestrate this violence with the aim of silencing, delegitimising, and dissuading women from participating in politics.
The report underscores the pressing necessity for robust interventions and the creation of nurturing milieu that fosters women's participation in politics, particularly in the digital era, with the ultimate aim of cultivating a feminist cyberspace for women political actors.  The report delves into the ramifications of digital technologies on democratic processes and women's active involvement while acknowledging the repressive attributes inherent in the online realm.
A safer internet for all
To combat this pressing issue, Pollicy and other fem tech actors recommend an overhaul in the trust and safety measures on digital platforms to accommodate women in the public sphere.  Now more than ever, platforms are expected to create and ensure the implementation of digital safety upskilling programs to create a safety culture. Governments must ultimately establish and amend political party and electoral legal frameworks to accommodate digital engagement in political campaigns.   Collaboration among key actors in governance and digital spaces is essential, as is the undertaking of awareness-raising initiatives that will play a pivotal role in bridging the digital inclusion dynamic. 
These measures are crucial for effectively addressing online violence and cultivating a supportive environment that empowers women in active politics. In essence, adopting a feminist lens in reshaping the digital landscape will foster the empowerment and agency of women politicians. A feminist lens in the digital landscape shifts the focus of policy analysis from quickly producing feasible policy solutions to carefully considering the complex social and political contexts while designing and using the internet. In the current global landscape, it is crucial to recognise that digital technologies positively and negatively affect women's equal involvement in public and political spheres.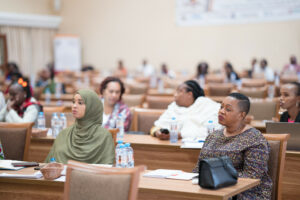 Digital advocacy
Cyberfeminism, now Feminist Tech (femtech), emerges as a powerful platform for feminist ideologies to critically examine, envision and reshape an all-encompassing internet. These benchmarks delineate the framework for establishing an internet centred on feminist principles and specifically cater to the needs and experiences of women politicians.
By adopting a feminist lens and implementing these actions, we can empower women politicians to actively participate in politics, amplify their voices, and shape the digital landscape. Ultimately, the goal is to move beyond mere access and advocate for gender equality in the digital realm.
We must equip women politicians with the tools to confidently and competently engage in digital spaces, amplifying their voices and promoting their political agendas. Women politicians can actively exert their influence and make meaningful contributions to shaping political discourse by fostering inclusive online environments and effectively contributing to internet and data governance debates in their councils and parliaments.
From Kenya to the rest of the continent, safeguarding the privacy and security of digital communications and activities undertaken by women lawmakers is paramount. This can be achieved by promoting encryption, data protection measures, and increased cybersecurity awareness. By protecting against unauthorised access, surveillance, and data breaches, women politicians can maintain their autonomy and trust in the digital space, facilitating their continued political participation.
We need to establish a feminist internet for women politicians in the digital age that addresses these various challenges, from guaranteeing access to affordable internet, providing digital literacy programs, creating inclusive online environments, countering online violence, safeguarding privacy, and security, to promoting more excellent representation in decision-making processes.
Tricia Gloria is a feminist researcher and digital rights activist working on Cyber Policy and Digital Rights within the Great Lakes Region. She is an Advocacy Fellow at Pollicy.
Ibrahim Batambuze is the Director of Communications at Pollicy. He has experience in human rights advocacy and communications, focusing on digital rights and technology.  
Irene Mwendwa is the Director of Strategic Initiatives and Feminist Movement Building at Pollicy. She had experience in human rights and tech policy.