Violence is a horrifying reality for many Nigerian women, from sexual to physical assault to economic. Nearly 3 in 10 Nigerian women have experienced physical violence by age 15, while a significant proportion of Nigerian women are assaulted by intimate partners. A 2018 report by Amnesty International showed that Nigerian police officers also assault women. This police violence was recently put on the spotlight when in April this year, 70 Nigerian women were arrested by police in Abuja on the grounds of prostitution and reportedly assaulted during the arrests that took place at night. Months after the incident, I speak to Oluwaseun Ayodeji Osowobi, the founder of Stand to End Rape Initiative (STER) and a prominent voice in the campaign against gender-based violence in Nigeria to find out if justice has been served and other issues relating the safety of women.
African Feminism: Would you tell us about the Abuja Police raid and what happened to women?
Oluwaseun: The raid quote and unquote was to eradicate prostitution or sex work in Abuja and so they went to a particular club and raided women in those spaces: classifying them as prostitutes and taking them into police custody requesting that they either pay a fine to get their freedom or lay down their bodies in form of rape to get their freedom. So it's about the Abuja Environmental Protection Board and they have a mandate to eradicate prostitution in Abuja. However, there is a court injunction seizing their powers and mandate. So the Abuja raid is in contradiction to the law.
African Feminism: Was this a one-off or was the raid and assault in line with a trend of physical and sexual harassment against women at the hands of the Nigerian Police?
Oluwaseun: Oh it's very common. From the way they catcall you on the street to when you go to the police station to make a report. And they begin to objectify you and speak to you in such a manner that is disrespectful. This is not the first raid, there was an earlier raid that affected one of my friends, Dorothy Njenmanze. She actually took the Nigerian government to the ECOWAS court and got a court ruling in her favor. The Nigerian government has refused to uphold the ruling. So it's not the first time. Sexual harassment, physical harassment by police officers is prevalent. People don't want to talk about it because the police are meant to be your safe space to report such cases. So when it's coming from them, who do you then turn to.
African Feminism: What has led to the entrenchment of abuses such as illegal detention, and sexual exploitation of women by the police?
Oluwaseun: Because our society allows it. They are a representation of our society. Every man in the police force is representing his or her own community or family. And within the family front look at how women are treated. Look at how issues of women and girls are thrown to the backseat. There's no regard for our education, for our rights to sexual reproductive health. There's just no regard disregard for us. So whether we are at home, whether we are in public spaces, it cuts across. It's the same mentality. The Nigerian policemen and women are a representation of our society. And until our society begins to push back, against their violence and saying no more will you disrespect our women and girls then, of course, our society's silence emboldens the culture of abuse against women.
African Feminism: What has been done to ensure these women get justice?
Oluwaseun: Civil society organizations including Stand to End Rape, Amnesty International, Through the Eyes of African Women and other organizations have been at the forefront with the protest demanding action. There is also dialogue with the national human rights, the Abuja Environmental Protection Board, and the Inspector General of Police-who we wrote a petition to. So there has been a lot of push from the civil society angle and well-meaning Nigerians. We just need the Government to take action on that and we will not relent on the pressure until something is done.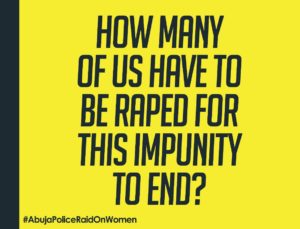 African Feminism: Looking at what happened in Abuja, would you say there is state-sponsored violence against women on the grounds of 'curbing immorality and prostitution'?
Oluwaseun: Yes, there is. Because if the state itself is now using violence against women to curb immorality, -what exactly is the state curbing. Because the state is also going against the law by abusing innocent people. Because whether I'm a sex worker or not, I shouldn't be sexually violated by anyone. So yes, there is state violence against women and this is manifested through so many means and one of such means is this police raid.
African Feminism: Abayomi Shogunle, one of the country's top police commissioners, justified the raid because they were prostitutes. How do we change the culture of tolerance of sexual harassment and violence against women?
Oluwaseun: I remember him. And it's a representation of our society and our government. What we need to do as individuals is to continue to educate people on the importance of respecting women's rights. We need to hold people accountable. Which is what has been the weaker part of the Nigerian legal system. While the education aspect is promoting prevention and when it does occur we need to punitive measures that help people understand that this is not just a law in paper-it's a law in practice. That when you harass or abused a woman you will face the consequences. So until we get to that space, we just have to keep talking, advocating and hoping that it will reduce the prevalence and the incidence of sexual harassment. But it has to be education, side by side punitive measures.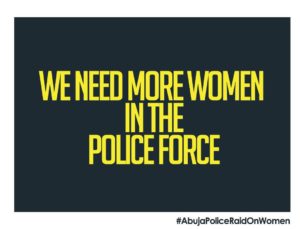 African Feminism: What kind of remedies can Nigerian women seek if they experience harassment by the police? Any organizations they can seek help from?
Oluwaseun: You can report to organizations. You can report to Stand to End Rape, you can report to The International Federation of Women Lawyers (FIDA), Amnesty International. There are many civil society organizations you can report to and they will help you to institute a case against the accuser.
African Feminism: What other issues stand from that night of the raid?
Oluwaseun: I feel like there is a nonchalant attitude by the Nigerian Police Force. When we were organizing the protest in Abuja, we had gotten a directive not to go ahead with the protest by the Nigerian Police or else whatever we face will be at our own detriment. But as young people, we understand that it's within our right to protest that any injustice against us or any other Nigerian and we took to the streets. There seems to be a nonchalant attitude by the police to fish out the bad eggs representing the Nigerian Police Force. And there also seems to be a lack of understanding of what the law on women's right actually is and how it should be interpreted. By now it's not difficult to know the officers who actually went on that raid on that particular day. It's not rocket science. By now they should have been arrested, they should have been charged to court. It's not rocket science. But then if it's taken them this long for them to even identify the perpetrators it means that there is no desire in them for justice. Whether is justice for women, justice for survivors. They are not just bothered about justice in general.
African Feminism: Share with us what you're working on presently.
Oluwaseun: STER's focus at the moment is working on sexual harassment in universities. We've been are doing a lot of work since last year on this issue and sometime this year we will be coming forward with our work. So besides the normal support services and advocacy that we do, we're focusing our energy on sexual harassment in universities and also training of healthcare workers on how to identify and respond to issues on sexual violence.
We're grateful to Oluwaseun for speaking to us. You can find out more about Stand to End Rape, and their activities on their website.