CW: This blog contains information about sexual assault and/or violence.
It has been 5 years since my lifetime academic exclusion from Rhodes University, South Africa. It soon will be the 6th anniversary of the #RUReferenceList anti-rape culture protests and seven years since I was raped, forced to navigate life as a sexual violence trauma survivor.
I turn 25 this May, so I look back at the past near-decade of my life and how it has been characterized with so much violence, misfortune, and some victories in between. I finished high school in 2014 and progressed into one of the best universities in my country, South Africa. I was ecstatic, but little did I know that life would get darker than I had ever imagined.
I was an 18-year-old first-year student, miles away from home, where now I'd have to figure out how to protect myself and fight for myself even more than I had ever done. I had experienced some difficulties before getting into university, but nothing that had come to what I would witness and go through as a student at Rhodes.
I come from a working-class family where my grandmother (whom I affectionately call Mama) raised me on her domestic worker (below minimum wage) salary. I attended moderately good public schools in the suburbs (most Black people's aspirations are to have their kids assimilated into anything that symbolizes western proximity for the betterment of our futures, of course). And now there I was, had made it, a student in 2015 at a historically white institution of higher learning with an excellent academic reputation. It was supposed to be the ultimate level of "best" education I could ever aspire to attain. My grandmother was proud. I was proud of myself too.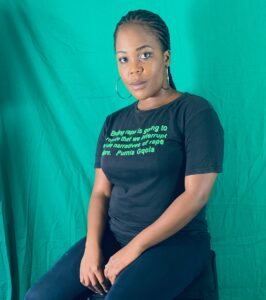 I was carrying my hopes and dreams, and those of others who were expecting much of me (which was to graduate, get a job and take my family out of poverty, the perfect equation to economic freedom). However, I was not prepared for the level of violence that would meet me. The different variations of systemic oppression that coexisted to create what I ultimately came to understand as patriarchal and neoliberal capitalism.
During orientation week, at the start of the academic year, when first year students are introduced to the university environment, we were told by senior students to be careful of certain male individuals on campus. We were also informed of the institution's failures or rather the modus operandi of how the institution's management had created and maintained this culture of impunity and a safe haven for perpetrators of sexual and gender-based violence at the campus.
What at first came across as a casual assertion of toxic masculinity through "boys will be boys" about the behavior of the [cis heterosexual] male students on campus then turned into "he is a rapist, so be careful of him," and "the university gave him 2 hours of community service". It was really a lot of information to process as a new student and particularly overwhelming to consider that we were about to live in the same environment and be exposed to known rapists and sexual offenders. This was the rape culture existing on campus that I became exposed to.
A few months later, in May 2015, I was date rape drugged, and everything changed. The same year, thousands of us, mostly working-class students, had organized ourselves towards the call for free higher education under the banner #FeesMustFall movement. The movement was challenging the government to head this socio-political transformative call and to provide a new policy that would ensure the roll-out of free and decolonized higher education and cancellation of student debt.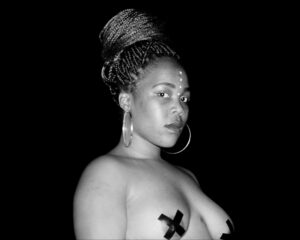 I found a community with people where we could radicalize our ideas and share our discontent about the oppression we faced. "Taking up arms", or rather joining any politically motivated movement that seeks to fight to dismantle oppressive systems always comes with a risk of violence; however, nothing could have ever prepared me for just how much fight one has to put in to realize ideas of justice.
I had navigated all the months in my first year as a student carrying this unspoken trauma from the night I was raped, which escalated with my involvement in the #FeesMustFall protests and anti-rape culture protests in 2016. The #RUReferenceList anti-rape protests errupted on the Sunday evening of 17 April 2016 where an estimated 800-1000 students organized themselves against the perpetual violence we were experiencing and called for systemic changes to be implemented to address the crisis. The protests went on for a number of weeks at the University's campus.
What triggered the #RUReferenceList movement was a number of pre-existing conditions however on 17 April 2016, a list of 11 names was posted anonymously on a student page on Facebook, of the names of current and former male students at Rhodes University. The list did not directly name anyone as a rapist or an abuser however it was always common knowledge amongst the student body that those male students had at some point been accused of  sexual violence against women on the campus. The protests also resonated in other universities across the country seeing students demonstrating against rape culture at their campuses in solidarity with the movement at Rhodes.
The university meted out disciplinary action against a number of students in February-March 2017 whom they had identified as 'protest leaders' of the anti-rape culture movement nearly a year after the protests. I was eventually one of 3 students who had various charges leveled against them which led to the Chair of the Disciplinary Hearing finding me "guilty" and having me academically excluded for life in my final year as an undergrad as recommended by the university's legal team. The university also relied on the very students that were accused of being sexual violence perpetrators to act as witnesses in the charges brought forward throughout the 5-month long disciplinary process.
What no one prepares you for is the emotional and psychological battles you have to face when all the police shooting is done, after the arrests have been made. You're back in the shackles that got you where you are. The war that's waged on you by those in power and who are in charge of the spaces we claim to be free in is a relentless one. Ultimately you face the wrath of those willing to do anything to protect their empires.
From the day I realised I was raped to the day I had two stranger men enter my residence room threatening my safety in September 2016, to the day my degree was stripped from me by the Rhodes' management in my final year in November 2017 through to now still fighting for justice and accountability, I have lived through the trauma. The post-trauma of all the cruelty imposed on me and in fear of what more can happen to me with all that I've gone through.
From where I stand, with everything that's transpired, I certainly feel I was targeted, isolated and 'dealt with' by the university and have been on a journey of recovering from it all, but it hasn't been easy.
Statistically and just experientially with growing global inequality, Black women still have it harder than most people in South Africa as majority household caregivers. My reflections are that we need more resources channeled towards poor people's battles with systemic oppression because it's not affordable to fight against at all. Access to good legal counsel that's dedicated to representing you and to help you fight whatever circumstance that violates your constitutional rights is a minority privilege. Although civil society organizations & law firms exist to help bridge that gap, there's only so much they can do due to funding and capacity reasons.
I wish every Black woman who has gone through some form of violence the kind of community and support I have received from my lawyers and other activists in this political and psychological persecution that Rhodes University management continues against me. The path to clearing my name, recovering my integrity and the injustices thrown at me has been nothing short of exhausting.
I've been fighting for my right to have been given a free and fair trial by the university in 2017. I continue to fight for my right to justice because I refuse to be silenced and to have my story tainted and disregarded because the Vice-chancellor and his colleagues think they have the power to do so (well, they did have the power and I too have my power to fight back). Society needs to do better at preventing and responding to Sexual & Gender-Based Violence. We remain in dire need of resources towards initiatives that defend women's right to protest misogyny and be protected while at it.
Feature photo: Anti-rape culture protest  by Oppidan Press 2016 
Bio: Yolanda Dyantyi is an African Feminist activist and digital social justice campaigner. She is also the Director and founder of Archive Amabali Wethu, a multi-media digital organization with the intentions to archive and document women and broader marginalized people's experiences of gender-based and systemic violence.