The past few weeks have been mentally and emotionally draining for South Sudanese activists especially women's rights activists. In the middle of a pandemic, a worrisome Peace Agreement, escalating intra and inter-communal violence, we have to brave reports of another girl, another woman raped, murdered or domestically abused. It feels like I have been in a constant state of emergency that just keeps getting critical.
An 8-year-old child was recently found unconscious after she was gang-raped by three (3) men in Juba. A couple of days later, a mother of two was gang-raped by armed men before her children in the same neighbourhood. Within the same timeframe, a 58-year-old woman was raped, murdered and body dumped in Jenderu, Juba and two other young women were gang-raped at gunpoint by armed men who broke into their house at night near Jebel Kujur.
In Lasu payam in Lainya county, three men in uniform gang-raped a 14-year-old girl while in Lakes State capital Rumbek, a 20-year-old pregnant young woman was murdered by her brothers. The brothers had wanted her to marry the man they had chosen, not the father of her unborn child. Earlier in January, another 16-year-old girl was killed by her brothers on claims that she was pregnant by a man they considered poor.
The Civil Society Network condemned the recurrent rape and violence against women and girls related deaths after they registered 22 rape cases in Lakes State between June 2019 and May 2020. Another local Nongovernmental Organization Change Agency Organization in Yambio also reported having registered 19 cases of rape within the town in the past two months. The CTSAMVM May reports highlighted other four rape cases, survivors included a pregnant woman and another 14-year-old girl, the perpetrators are all men in uniform.
Back to April, a member of parliament representing Yei River County at the National Legislature brought to the public attention that 19 women and girls had been raped by men in uniform between March and April.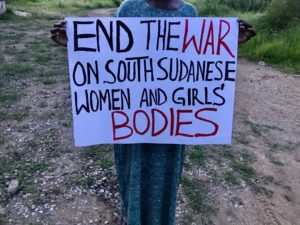 These are the known cases, just a few among the many untold stories of sexual violence South Sudanese women, girls and children experience on a daily basis for simply being female. Those few stories that local media covered the past two months raised alarms and sparked conversations on sexual violence on different platforms amongst South Sudanese. If every case of violence against women and girl was covered by media or given the same amount of attention like any other form of violence, South Sudan would declare a state of emergency every other month.
I do believe that the cases of sexual violence against women and girls aren't necessarily substantially increasing but the survivors and victims are slowly starting to speak out, media houses are starting to understand that these are crimes not "family matters". Young people are starting to use their social media platforms to bring to light these stories where feminists, women's rights, civil society activists among other actors amplify these voices and publicly demand accountability and justice for the survivors.
Sexual violence against women and girls is structural, the few survivors breaking the cycle of shame culture and naming their abusers or reporting are still not getting the justice, medical or mental health care they deserve. Exposing abusers does not directly translate to survivors getting justice and that right there is the needed breakthrough in South Sudan.
When women rights activists protested the rape of the 8-year-old child, the Minister of Gender, Child and Social Welfare addressed the nation saying "impunity is one of the obstacles blocking justice for rape survivors in South Sudan". Sexual violence is about power, dominance and control which does not end at the time of the act, abusers continue to use that power to ensure survivors remain silent. Impunity means survivors are even at more risk and danger after reporting or exposing their abusers who are often so quick to threaten survivors back to silence.
Rape culture in South Sudan like elsewhere is deeply rooted in various harmful cultural practices braced by social norms, but this coupled with a dysfunctional justice system built on a patriarchal foundation has the most disastrous impact on South Sudanese women and girls. One can only wonder where survivors are supposed to look to for protection if the systems and structures established to correct this structural violence continue to perpetrate sexual violence and protect abusers the most!