It was 2014 when as I worked in my village of Mundri that I found out women there were not allowed to eat eggs and chicken. However, not all had obliged to this societal rule. I would learn that some rebelled, like my aunt. Yes, discrimination can be as petty as and down to who is allowed to eat chicken or who's not. No one ever explains or knows why. That is just the way it is, they say. 'Maybe there's something about them they don't want us to catch.' An egg can shine in many ways, after all.
In a country with a long list of limitations placed on women, where women cannot inherit land, but brothers can inherit wives; where 52% of girls are married before 18; investing in your girl's education is often bizarrely seen as a waste of resources; where a woman still not allowed to choose a partner, the limits on the egg-eating can sound like a minor issue. In a place where a woman who prefers to stand up to customs is considered rotten – the egg rule shines a bright light on just how arbitrary and absurd all of these customs are.
The rule can seem a joke, silly, inoffensive but cannot be separated from the very culture that imposes illogical, one-sided rules to keep women 'in their place.' And that is not a good place. According to most customs in South Sudan, women are born to cook, clean, give birth, and above all, accept their lot. It's a dehumanising existence – one that paints women as objects, not agents. Like the chicken and eggs limits, women are expected to prepare the table but not be anywhere close to the feast.
The high rate of domestic violence, from active conflict to outside, cannot be ignored. The UN reports of rape as a weapon of war should be no surprise to anyone paying attention to the role of women here. The violence has struck me to the extent I have become numb to all this. It's time to change that.
Time to encourage women and girls to do what they want to do: learn, enjoy, develop, and lead. On leading, we have an uphill task- resistance to women leading, resisting the notion that women and girls can be equals to men! Many still want to confine us to the kitchen, only to grow up and get married. We are told women are too ambitious, women can not handle tough things like leadership, women belong to the kitchen and not at decision making tables…we say no, women, we can lead everywhere! Women can do what a man does and even do it better.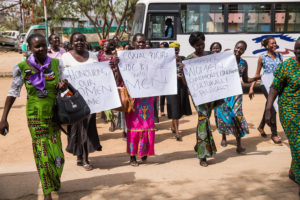 We have worked hard to get to this country to accept that we occupy the 35 per cent quota in leadership. It was not given… it was hard-earned, the days of sleeplessness, the running up and down and beyond in the peace process. So we demand what is ours! Last year, our country signed a peace deal, aiming to put an end to five years of civil war. Women were around the peace table, and they managed secure commitment from leaders that at least 35 per cent of positions in the new executive will be occupied by women.
Now, in a country where 60% of the population is women, this should not be ambitious. But resistance came quickly. Even the supposed allies would sometimes 'regret to inform me there aren't enough women who can lead." I knew they were wrong but still I went on a mission. As the February deadline nears for the new government to be formed, I decided to take a trip around South Sudan to meet the women who are leading in remarkable ways. My aim was to remind the country that women are already leading in every community across South Sudan. To show that these women are all of our role-models. We are not waiting for them to catch up, be 'capacity built'. Our women are ready now at all levels.
I travelled to towns, villages, and the spaces in between to meet women who are leading through serving — women who are sacrificing their time and energy; sharing their knowledge. I met mama Rose, a woman who is a legend in Rumbek in Western Lakes State, for her rebelliousness and refusal to accept defeat. When she was kicked off her tea stand by a restaurant owner next door, she set up a new place, turned it into a restaurant and ended up taking up all the customers. I then met a peace-builder called Mary Nyakang Chuol who treks her county to persuade men to put down their AK-47s. She has no car, walks for an entire day to do her work. I met Mary Manji, a female chief in Wulu (Western Lakes State) who is reshaping that male-dominated space. She's well known for her arbitration skills whenever a dispute arises in the area.
I met women who had come together to farm and plough the profits back into funding a school for their children, midwives who have been operating with virtually no equipment in cut-off areas. I met women showing their guts and determination to take on roles traditionally considered a male zone. A young woman Awal Susan, coaching a men's basketball team in a country with no female basketball team, a boda-boda (motorcycle) rider and builder, Jamila who has shown that women can do 'men's jobs' too and even better, that is top of her degree in accounting.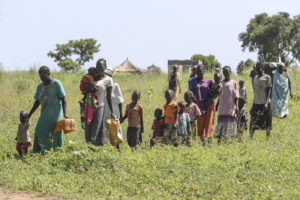 Some of these achievements can seem humble to the outsider, but in a country that has been spiralling into deeper hunger and poverty the past five years of war that has taken many lives and displaced millions, meeting women have resisted, kept their communities going, is inspiring. People like this will take our country forward.
What has become clear to me, and I hope to everyone in this country, is that leadership must go beyond merely commanding. As we try to drag South Sudan out of desperation and death and into a peaceful and functioning nation, we will need people who are ready to serve and sacrifice. Feminist leadership is the solution to save any country, and that means looking beyond what is long thought about who can lead!
There are many beautiful things about our cultures: the people, food, dancing, music, stories, history but the way we see our women has to change for us to make a huge leap. We can keep the good of our culture and still have women leading. We are not a threat. We are the future. We can have our eggs and eat them.